Dunkin' Donuts Launches Mobile Payment App For iPhone and Android
In an effort to keep up with Starbucks, Dunkin' Donuts now has its own mobile payment app for iOS and Android.
The new Dunkin' Donuts app, is now available in the App Store and Google Play Store. The app uses a barcode system for mobile payments, similar to the Starbucks app before the company teamed with Square. To pay for their donuts and coffee users just need to put money on the virtual card and have the cashier scan the code to complete the purchase.
The system isn't as easy as something like Square, where the money charges to a credit card automatically. It is easier than carrying around a wallet, however, as long as the card is always full.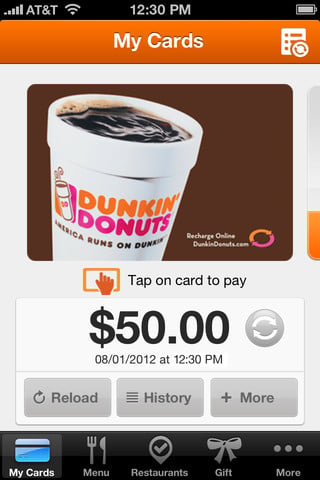 Dunkin' Donuts' app also lets users send gift cards to their friends through email, SMS, or Facebook Connect. Virtual cards, called mGifts, can range from $2 to $100, and will show up in the other person's app. It's perfect for giving someone money for a trip to the donut shop without having to actually hand over cash.
The new app also has information about Dunkin' Donuts. The app can help users find the closest location, the store hours, and drive-thru availability. The app also has nutritional information, so users can find out just how many calories each donut has before they consider buying one.
It's nice to see another retailer jump on board mobile payments, but we wish the company would just join an existing network. The new app is nice, and even works without web access, but it's still yet another app to download for mobile payments. It'd be nice if more companies would join under one system so users only need to have one or two apps for mobile payments.