Dutch Retailer Releases HTC Vigor Specs, Photo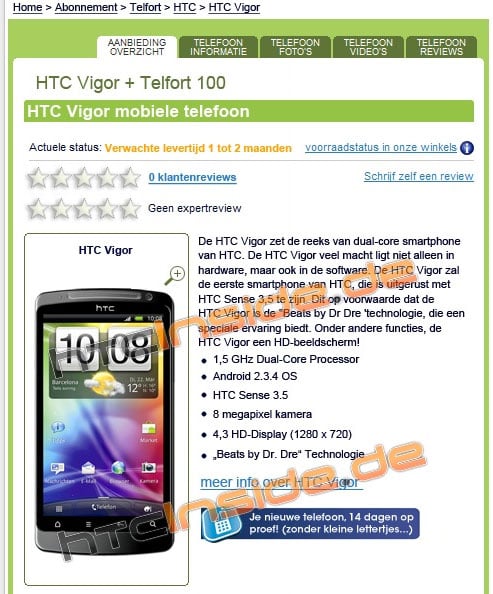 After many leaks and speculations about HTC's next-generation superphone, a Dutch retailer has managed to release a spec sheet and an image of the HTC Vigor that confirms the device's astounding specs. As was previously rumored, the device will have a 4.3-inch high resolution display that will have 1,280 X 720 pixels, up from today's high-end qHD displays. Essentially, with a 720p HD display, users can watch every pixel of a 720p movie without the phone having to downscale video or image quality to render on the small screen.
The Vigor will be the first smartphone out of HTC's lineup that will come with Beats Audio integration. In the past, HTC has attempted to differentiate its offerings through better audio quality via partnerships with SRS or Dolby Labs, but given the company's recent $300 million investment in Beats Audio, the company will be going in-house with its audio enhancements on its mobile products. Beats, so far, has been used by HP on its computers and its TouchPad tablet. It's unclear what HTC's partnership will mean for HP in the future.
Additionally, to power the enhanced 720p HD display and audio, the Vigor will be powered by a dual-core Qualcomm Snapdragon processor, clocked in at 1.5 GHz, which is up from the dual-core 1.2 GHz Snapdragon found on today's high-end HTC phones, like the HTC EVO 3D and the HTC Sensation 4G. The device will have an 8-megapixel rear-facing camera along with HTC Sense 3.5 UI on top of Android Gingerbread.
Availability and pricing was not yet revealed by the Dutch retailer, but the phone is widely expected to land sometime this year. In the U.S., the Vigor will be a successor to the HTC Thunderbolt for Verizon's 4G LTE network.
Via: GSM Arena