E-Readers May Be Cleared for Takeoffs, Landings in 2014
The Federal Aviation Administration, or the FAA, in the U.S. may revise its longstanding policies to allow the use of select electronic devices during the sensitive takeoff and landing period. Thus far, no electronic devices are allowed to be powered on during flight when the plane is under 10,000 feet as the FAA says that the use of electronic gadgets may cause interference with the jet's own electronics.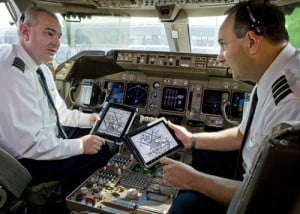 The change may come as soon as 2014:
If you're sitting on a plane at the gate and reading this column on an electronic gadget, you're about to hear eight dreaded words: "Please power down your electronic devices for takeoff." But this time next year, you might hear something very different: "Please put your devices on 'airplane mode' for takeoff."
After recent prompting by lawmakers like Senator Claire McCaskill, who is proposing her own bill to allow the use of these electronic devices if the FAA fails to act, as well as the FCC, it looks like the FAA may be more lenient towards these devices. According to the latest report from the New York Times, the FAA is under heavy pressure to explain its logic about banning the use of electronic readers during take-off and landing:
One member of the group and an official of the F.A.A., both of whom asked for anonymity because they were not allowed to speak publicly about internal discussions, said the agency was under tremendous pressure to let people use reading devices on planes, or to provide solid scientific evidence why they cannot.
Additionally, as the FAA recently allows pilots and flight attendants to use tablets and phablets inside the airplane's cabins as flight manuals and for tracking passenger information, it's becoming more unclear as to why airline passengers cannot use e-readers for reading books during the take-off and landing period. Customers can resume use of their e-readers and other electronics that are approved for in-flight when the plane is over 10,000 feet in the air.
Still, it's uncertain what devices will be cleared for use inside the airplanes once the rules get relaxed. Likely, E-Ink readers, such as Amazon's Kindle and Barnes & Noble's Nook e-readers will be approved. As iPads and Galaxy Tabs are now part of some airline's cockpits, those tablets may also get approved for use by the general public. Laptops and heavier electronic devices may not get clearance for use during takeoff.

As an Amazon Associate I earn from qualifying purchases.