EA Adds Retina Display Graphics to Tetris for iPad, Forces New App
A recent Consumerist poll earned EA the title of "Worst Company in America For 2012." While that poll was likely because some fans hated the Mass Effect 3 ending, there's no denying that EA does make some evil (or greedy) moves with its games.
Charging iPad users $6.99 for a retina Display-ready version of Tetris is one of those moves.
According to TouchArcade, EA released a new version of Tetris for the iPad, called "Tetris for iPad" that supports Retina Display graphics. The new app shares the same name as the previous version, but is actually an entirely different app that requires another purchase.
The new Tetris for iPad will cost iPad owners another $6.99, and adds in the T-World subscription that gives users more coins and bonuses as they play the game. The subscription is basically a way to pay for better scores.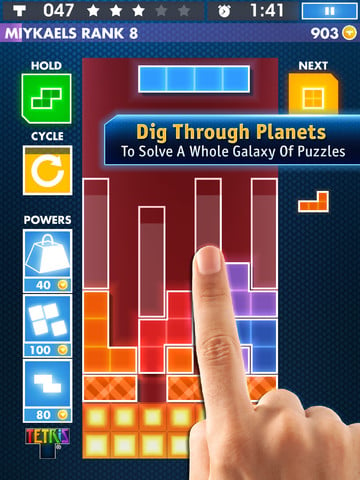 Of course, EA also had to shove Origin into the game, just like every other new EA game. Origin is EA's universal platform for games. EA says it's a way to connect with friends that are playing the same game, but Origin is really a bad version of OpenFeint without achievements.
In terms of gameplay, the new app also offers two new gameplay types: One-Touch Marathon Mode, and Tetris Galaxy. The former mode gives users only a few choices for where to place each piece, adding more strategy to the classic game. Tetris Galaxy is a series of puzzles that lets players "dig through planets."
The new features themselves aren't evil, but making the old app completely unavailable is. The fact that EA is making users pay again for Retina Display graphics is evil as well.
The new game does look a lot different from the old version, but they're essentially the same game. Even if EA released the new game on sale for just a dollar or two for a few days it'd be fine. The game already has in-app-purchases, so why charge players $7 for it at launch?
The sad truth is that iOS users have grown accustomed to free updates to support new screen resolutions. Even other EA games like Mass Effect Infiltrator received Retina Display graphic updates for free. Why can't Tetris?

This article may contain affiliate links. Click here for more details.