EA Announces Real Racing 3
During its recent Summer Showcase EA announced the first game from its newly formed FireMonkeys team: Real Racing 3.
The new Firemonkeys team is the result of EA merging the Firemint team which made Flight Control and the first two Real Racing games with Iron Monkey, the studio which made the mobile version of Dead Space and Mass Effect Infiltrator. The new racing follows the tradition of Real Racing in pushing mobile platforms to limits we haven't seen before.
So far we only have one screenshot and the official trailer from the game so far, but that's enough to make us want the game. The trailer and screenshot show a racing game that wouldn't look out of place on a home console connected to an HDTV.
According to Touch Arcade, Real Racing 3 will feature real racetracks like Leguna Seca, and real cars. The cars come from Porsche, Audi, and Dodge, and possibly others, but that's all we know for now. The game will have 22 cars in each race, and given the impressive graphics of the game that's almost mind-boggling for a mobile device.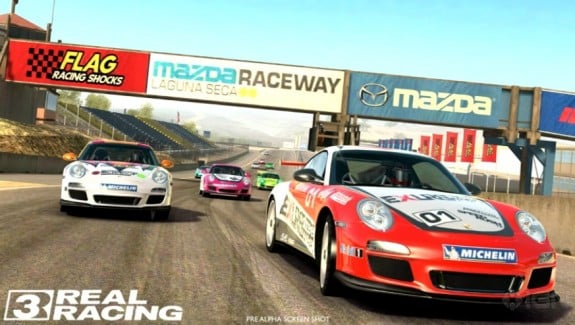 Previously, Real Racing 2 was the first game to support 1080p output on the iPad 2, and was the first game to take full advantage of the graphics power of the iPhone 4S. We're hopeful that Real Racing 2 will continue to do things we haven't seen before. We can't wait to see how it looks in person running on a Retina Display iPad, or on the rumored widescreen iPhone 5.
There's no release date for Real Racing 3, EA will only say that we'll see it sometime later this year.