Early Padfone 2 Certification Shows LTE, But No U.S. Support
Asus is scheduled to hold its Padfone 2 media event to announce the device on October 16, but ahead of the announcement we now know a little bit more about the transforming smartphone. The second-generation device has been rumored to have a quad-core Qualcomm Snapdragon S4 processor and come pre-loaded with Android 4.1 Jelly Bean. However, according to certification reports from the Global Certification Forum, we now know that the device will be able to support 4G LTE connectivity.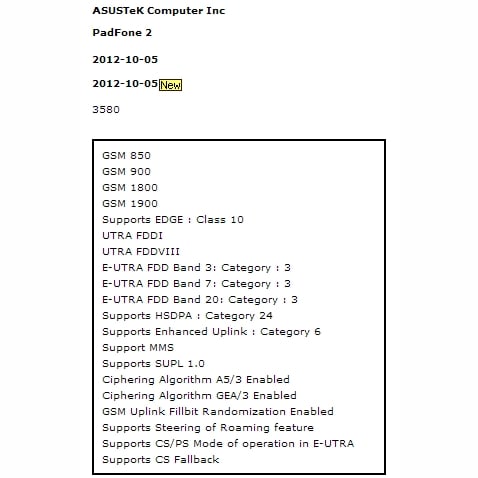 According to Unwired View, the Padfone 2's LTE support, at least initially, will be limited and U.S. customers may find themselves looking at other devices as the version(s) of the phone being certified right now won't be able to work on 4G LTE networks in the U.S., like those from AT&T Mobility, Sprint Nextel, or Verizon Wireless. The current certification reveals that the Padfone 2 will be able to work in Europe, Asia, and Latin America 4G LTE networks.
It's unclear if Asus has plans on taking the Padfone 2 to the U.S. and if it has inked any agreements with American carriers.
The device is expected to be a highly modular device that will change between a smartphone, tablet, and lightweight netbook with the processing, memory, and important components housed in the smartphone. Docked in a larger screen, the Padfone 2 will serve as a tablet and when the tablet is docked in a keyboard dock, it will become a lightweight netbook similar to the Transformer Pad series.
The design essentially allows customers to maintain one smartphone and data plan and have everything seamlessly work across different form factors, though with shareable data plans in the U.S., it's unclear if this is still needed as the total cost of the tablet dock and laptop dock along with the Padfone 2 may be equal to the cost of owning a smartphone and tablet hardware separately. The idea made sense in the past when carriers required separate data plans for each data device, but adding $10 to an existing data plan to share your tablet with your smartphone's data plans is no longer cost prohibitive for many people.

As an Amazon Associate I earn from qualifying purchases.