How to Enable Emoji in iOS 7
When you're chatting with friends and family over iMessage, you can't quite convey the same emotion that you would if you were talking with them face-to-face. However, this is where emoji come into play. Emoji are similar to emoticons, but the only difference is that emoji consist of a wider range to choose from and are usually built into devices themselves, rather than being made with traditional characters.
iOS devices have emoji built right into the keyboard, but you probably didn't know that, considering that Apple doesn't show them by default. Instead, you have to dig into the settings in order to start using emoji in your text messages, but we'll show you how to do that so that you'll be sending emoji to your friends and family in no time.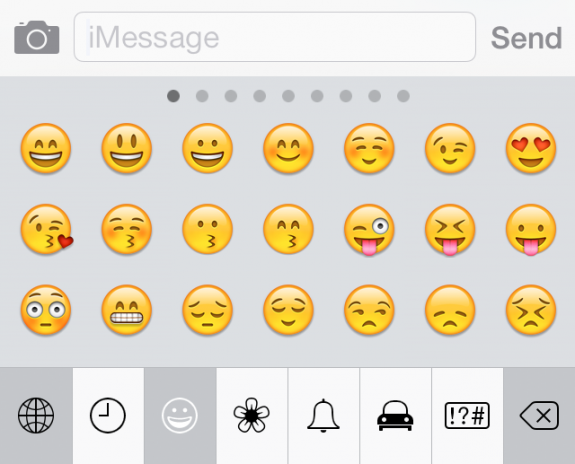 Enabling Emoji
To enable emoji, open up the Settings app and navigate to General > Keyboard > Keyboards and tap on Add New Keyboard… You'll be provided with a huge list of keyboards in different languages. Scroll down until you see Emoji and tap on it. It will now show up in your list of keyboards. If you haven't added any keyboards in the past, you should be seeing your main keyboard (most likely English) and then you'll see the Emoji keyboard right below that. If so, you enabled emoji!
Using Emoji
To start using emoji, open up the Messages app or any other app that uses the keyboard. There will now be a globe icon in the bottom-left corner of the keyboard. Tapping on this will bring up emoji. Word of warning: there a TON of emoji to choose from, and when we say that, we mean there are multiple categories of emoji, and within those categories are multiple pages of emoji.
You'll see the basics like traditional smiley faces, to hand signals, to random emoji like a water drop, hearts, stars and even poop (yes). There are even emoji of animals, plants and cars. To say the least, there are a ton of emoji to choose from, so feel free to take some time and go through all of them to see what your options are.
One thing to be aware of, however, is that while you can use emoji in pretty much any app that uses the iOS keyboard, they will only show up correctly on other iOS devices. So if you were to send out a tweet with an emoji in it, other people looking at that tweet on their desktop would simply see an odd-looking blank square icon where the emoji is supposed to be.

As an Amazon Associate I earn from qualifying purchases.