Engadget previews ViewSonic's dual-boot Windows/Android tablet
Not impressed with ViewSonic's ViewPad 7? Maybe their 10-inch model, which dual-boots between Windows 7 and Android 1.6, will be more to your liking.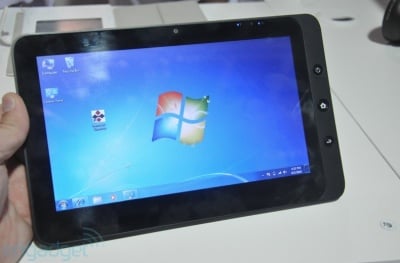 Good news first: the version of Windows running on the slate is indeed Windows 7, alleviating my concerns that it might be Windows Embedded Compact 7 instead. So if you're interested in a device that can switch between a light, instant-on OS and a full desktop-style OS, this one has the potential to finally make that happen.
The bad news is that the version of Android running on the slate is 1.6, which is already considered several steps outdated. This is because it's the most recent version that supports the x86 processor on the tablet, which is required for Windows 7. Not the worst compromise, but still a compromise.
The rest of the specs are typical netbook-level stuff: Intel Atom N455 processor, 1GB memory, 16GB SSD, 1024×600 10″ LCD. Interestingly, the front hardware buttons include home and back (and power) but not menu and search (available on-screen only), breaking from Android standard. While those missing buttons could be argued as being confusing or unneeded in Windows mode, they could have been used to fill out part of the old Microsoft spec for Tablet PCs, such as a dedicated button for Ctrl-Alt-Del.
Pop over to Engadget to check out more photos and their hands-on video.

As an Amazon Associate I earn from qualifying purchases.