eReader Gift Guide – Best Devices for eBook Lovers
eReaders continue to top many holiday wish lists despite predictions that tablets would eliminate them in short order. They flourish thanks to steady improvement in page turn rates, eInk display technology, and now the addition of touch capabilities. The ever more reasonable prices don't hurt, either.
Voracious bibliophiles and casual novel snackers alike love eReaders because they're lighter than mass market paperbacks and can hold thousands of books. The paper-like eInk displays are easier on the eyes than traditional LCD screens, which means longer reading time. And with batteries that can go one to two months without needing a charge, they're much less high-maintenance.
This year most major manufacturers added touch capabilities to the mix, making eReaders even easier to use, even if you're not tech-savvy. This new crop utilize the same basic technology, which combines a crisp, non-glare display with infrared touch sensors that can detect fingers, fingernails, and styluses.
If someone on your list loves reading and sharing what they read with friends, an eBook reader might make the perfect gift. Here are our top picks.
Amazon Kindle Touch
The Kindle finally gets touch-friendly.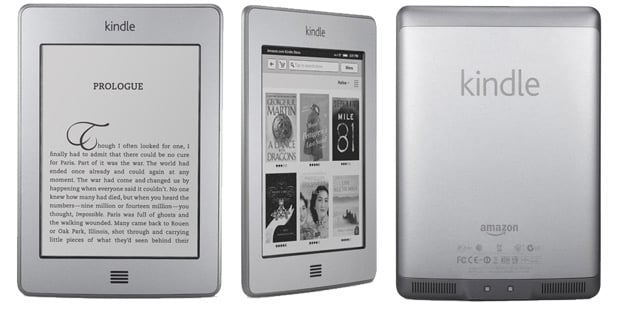 Amazon's new Kindle is slimmer, lighter, and more pocketable than it's keyboard-bearing predecessor. Thanks to the touchscreen, an on-screen keyboard replaces the physical one. Users can turn pages with the tap or swipe of a finger.
Kindle's Easy Reach feature allows users to turn to the next page with either the right or left hand without having to reach or pull off awkward swiping maneuvers. Good thing, since this Kindle doesn't have any physical page turn buttons.
Inside books, readers can now access a wealth of information about characters, settings, historical events and more with Kindle's X-ray feature. Searching, bookmarking, notes, and social sharing remain.
Aside form eBooks, users can also load and read their own documents to the Kindle. It supports TXT, PDF, and DOC/DOCX files.
The Kindle comes in two versions: Wi-Fi only or Wi-Fi + 3G. Wi-Fi only Kindles still get free access to AT&T hotspots around the country, so you can download books, search Wikipedia, or check your email with the (extremely) limited browser even when you're not at home.
The Kindle Touch starts at $99 for the Wi-Fi only version, but keep in mind that this is the Amazon Offers version with screensaver ads. The ad-free version starts at a reasonable $139.
Barnes & Noble Nook
Style, comfort, and social sharing all in one package.
Just a year and a half after getting into the eReader game, Barnes & Noble created one of the best eBook devices of 2011. The new Wi-Fi only Nook features a lightweight and comfortable-to-hold design with a soft-touch coated, curved back. The Android-based software is simple yet robust, packing in features that help readers connect with their book-loving friends.
The crisp touchscreen at the center is still flanked by physical page turn buttons for those that prefer them. Customize their functions to fit your hand size or how to prefer to use the device. Or, just tap or swipe the screen to turn without experiencing that annoying flash every time you do.
Sync the last page read, bookmarks, and notes across all devices connected to your Barnes & Noble account, share passages to social networks, plus share your progress and what you're reading with select people via Nook Friends. With a Nook you can also lend and borrow books from friends and borrow from local libraries.
Since the Nook can read EPUB files, a popular eBook format, owners can load books from stores other than B&N, such as Google eBooks, Sony, and Kobo. You're not tied forever to one store and can move your eBooks to a different eReader in the future.
Kobo eReader Touch Edition
eBooks know no borders, and neither does this eReader.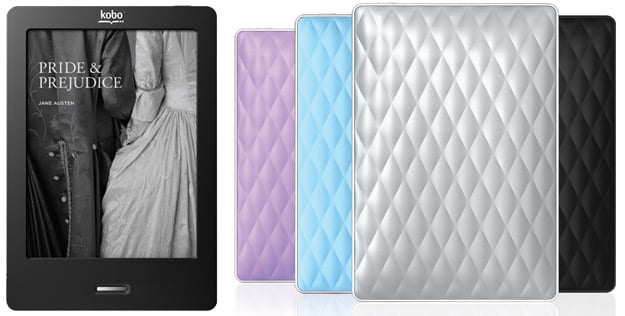 eBook lovers outside of North America can't always get a Kindle or a Nook, but Kobo's reach extends across the globe. Available in over 100 countries in local languages, the Wi-Fi only eReader Touch Edition is the most international of the devices in our guide. If you're gifting across borders, this is an excellent choice.
Kobo updated the look of their eReader for the touch version, shrinking their already small and light models a bit and getting rid of the problematic D-Pad. Now users can navigate and turn pages with just a tap or swipe.
FourSquare junkies will appreciate Kobo's Reading Life, which tracks how much and how often users read and awards badges for a variety of accomplishments.
Compatible with the EPUB format, Kobo eReader owners can buy books from other stores as well as borrow from local libraries that support digital lending. Or, just browse their catalog of over 2.5 million eBooks, magazines, and newspapers.
Sony Reader
Sony brings together digital books and digital notes.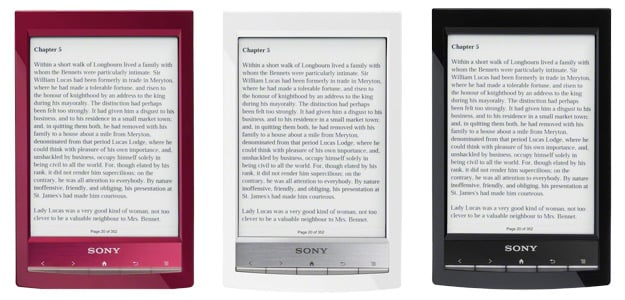 This year Sony simplified their eReader offerings down to one: the 6-inch Reader Wi-Fi. Though the look hasn't changed much over the years, Sony has steadily improved their device both inside and out. It's now faster than ever with a glare-free touchscreen and wireless connectivity.
One of the Reader's best features is the Notes function, which not only allows users to create standalone notes (freehand or typed) but also to create notes on the pages of eBooks. Highlight or scribble on a page with the included stylus or a finger, then export it as an image to reference on your computer with ease.
Owners can also still load MP3 tracks, so you can listen and read with one device or get an audiobook going while your hands are engaged.
The Reader Wi-Fi reads EPUB files so users can load titles from other stores or borrow digital library books. It will also read PDF and TXT files.
Amazon Kindle 4
A budget eReader that still offers a good experience.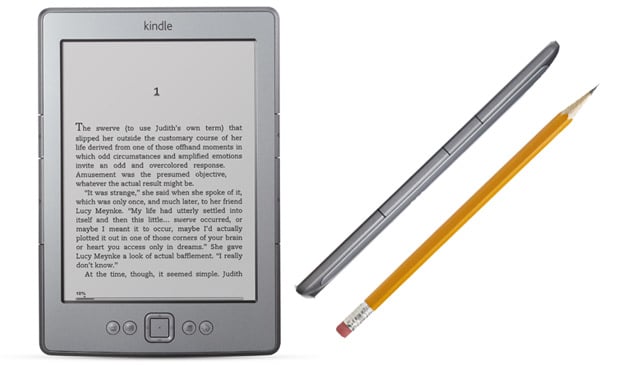 The odd man out in this roundup is Amazon's other new Kindle, which doesn't have touch capabilities or a physical keyboard. At first glance it might strike you as the kind of basic eReader you often see in the bargain bin made by companies you've never heard of. Thankfully, Amazon delivered something with a low price that isn't cheap.
This simple eReader is priced for customers on a tight budget. Yes, the Kindle 4 has few frills on the hardware side, yet it still delivers a good eReading experience.
Like the Touch version, the Kindle 4 is very light and small and will easily fit in a pocket or small bag. It would make an excellent gift for less tech-savvy people on your list. Especially if they're not sure if eBooks are for them. It's low price also makes it a good choice for kids just learning how to care for their electronics.
The Kindle 4 only comes with Wi-Fi connectivity, no 3G. As with the other Kindles, the lowest price includes ads from Amazon Offers. The non-ad version costs $109.