Ergotron Workfit-T Sit-Stand Desktop Workstation Review
If you want to dip your toes into the standing desk world, the Ergotron Workfit-T is an affordable standing desk option that converts your regular desk into a standing desk for cheap.
Standing desks are becoming more and more popular these days, and while they might not have fully penetrated the mainstream market, office workers are more interested in standing desks in general.
Read: Best Standing Desks in 2019
It seems obvious, but sitting down all day is bad for your health. It makes you less active, which in turn can cause a number of things to possibly happen to your body, with gaining weight being a big one. In fact, even exercising regularly doesn't negate the effects of sitting down all the day, which is pretty shocking.
So what can you do about it? Well, getting a standing desk is a great way to go. You can even build one yourself if you're strapped for cash or just don't want to spend a lot in the first place.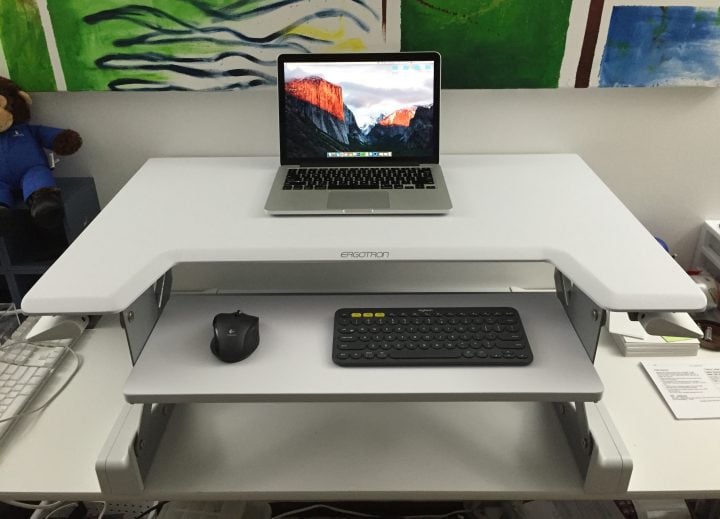 However, DIY standing desks are only so great up to a certain point, which is where the real thing comes in. Buying a real standing desk provides more flexibility, as well as better build quality and design. However, they can also be really expensive.
The good news is that you don't have to pay thousands of dollars for a standing desk. The Workfit-T from Ergotron can be bought for around $400 and can easily be set on top of your current desk to turn it into a standing desk of sorts.
The Workfit-T has a desktop surface that's just under 3×2 feet, which is plenty of room to fit a monitor and a laptop at once, and the sunken keyboard tray leaves room for your mouse and keyboard. It's clear that Ergotron wanted the desk to be big enough to accommodate users' needs, but small enough that it wouldn't take a forklift to move. However, the Workfit-T still weighs a lot and it's an absolute bear to move by yourself, so you'll definitely want two people on each side to lift and carry it.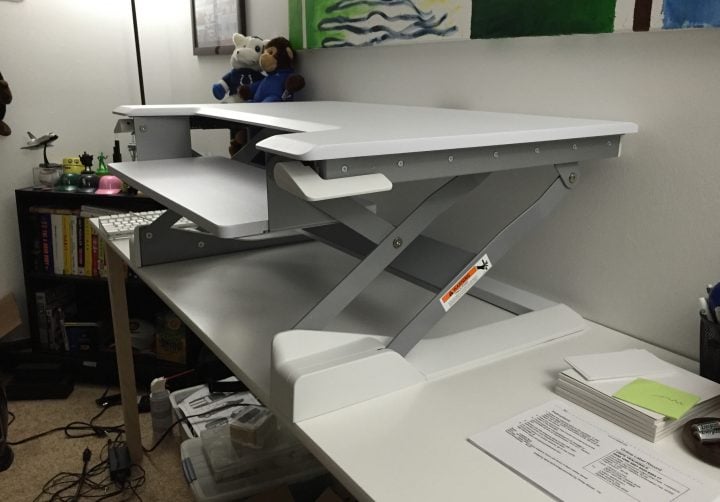 What makes the Workfit-T so awesome is its ability to move up and down fairly effortlessly. By simply pushing in the paddles on each side of the desk, you can lift and lower it without much fuss. Lowering does require a bit of a push down if you don't have much weight already on it, but raising it is super easy.
The desk can rise up almost 15 inches from its lowest position, adding a max height of 20 inches to your current desk, so there's definitely room for a tall person to use it without a problem. I'm 5'6″ and I only had to lift it up just a little bit until it was at the right standing height, but then again, I'm not very tall at all.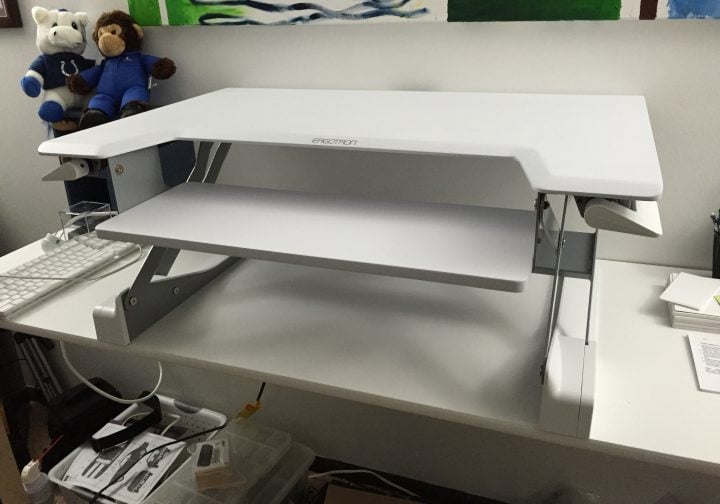 One minor downside is that the desk will add an inch or two of height to your current desk as far as where the keyboard tray is, so if your current desk is ergonomically perfect, the Workfit-T might mess that up a bit.
The desk also doesn't go down all the way and stay there, so when you lower the desk all the way, it will come back up about a half-inch, and there's actually a bit of a gap in the raise/lower system where you can raise and lower it a couple of inches without having to press in the paddles on the sides, almost like it's loose or something.
Of course, once you add some considerable weight on top, the desk won't have the tendency to do this, but I had my laptop, mouse, and keyboard sitting on it and that wasn't enough weight to keep it from doing this. It's not a huge problem though, and I'm assuming most users will have more weight on the desk than just a laptop and a couple of accessories. However, it has a maximum of 35 lbs.
One feature that I would have loved to see on the Workfit-T is the ability to adjust the vertical distance between the keyboard tray and the main desktop surface in order to give users even more customization when it comes to ergonomics, but that would likely have raised the price
At just over $400, the Workfit-T is a product that allows you to experience standing desks at a fraction of the cost, and you don't even have to get rid of your current desk, which is its biggest benefit.
Overall, it's a really nice solution if you're on a budget, but if you're serious about getting a standing desk, I'd recommend getting a complete standalone standing desk. You'll pay more for it, but you'll also get a larger desk surface, and they even make standing desks with electric raise/lower systems, which can be really convenient.

As an Amazon Associate I earn from qualifying purchases.