Essential Black Friday Apps for 2011
If you want to succeed on Black Friday, you need to be prepared. We'll be sharing tips and best picks for Black Friday 2011 over the next week, but wanted to make sure that you have the essential apps at hand to get the best deals and avoid long lines.
Black Friday is November 25th, the Friday After Thanksgiving, which is a day of crazy deals and crazy shoppers. Retailers typically offer a number of deep discounted doorbuster items.
The Black Friday ads are already leaking, showing discounts on a number of smartphones, and we expect to see a lot of Apple Black Friday deals for iPod Touches.
Essential Black Friday Apps
If you plan to shop on Black Friday, we recommend the following apps for Black Friday. These free and cheap iPhone and Android apps will help you make sure you are getting a real deal, find the best Black Friday deals, and build a Black Friday shopping list. 
Black Friday – Dealnews.com
Dealnews delivers a number of leaked Black Friday ads in the site's free Black Friday App. The app from Dealnews brings the latest leaked Black Friday ads to your iPhone and Android devices, and allows you to build a shopping list on the go.
Another nice feature is the inclusion of links to online stores so you can make purchase as soon as deals go live, for those that are offering online Black Friday deals.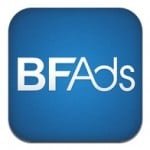 BFads.net
iPhone only
BFads.net is one of my personal favorite Black Friday websites and the BFads Black Friday app doesn't disappoint. BFads has the latest Black Friday ads posted as soon as they leak from big names like Best Buy and others.
You can check out close to 4,000 deal right now, with the number expected to climb dramatically as Black Friday approaches.
Black Friday – Fatwallet.com
iPhone only
Fat Wallet has a nice looking Black Friday app with listings of Black Friday deals by retailer, category, price and more. You can also filter deals by online availability if you don't plan to go to the stores on Black Friday.
If you turn on notifications, the app can push an alert whenever a new ad is leaked. The app supports creating Black Friday shopping list that can also be viewed on FatWallet.com.
BlackFriday.fm
BlackFriday.fm delivers the latest Black Friday leaked ads as fast as they come, and allows you to browse by category to find the best deals in specific shopping areas that interest you.
The app also includes a shopping list, but no apparent way to sync it up to the web.
Amazon App
The Amazon app for the iPhone and Android is a perfect choice for checking out your planned purchases. I want you to check two key things on the Amazon app — price and reviews. Many Black Friday sites simply post the deals, not taking the time to tell you what is a good deal and what isn't. The retail price shown on ads is often grossly inflated — especially on doorbusters which are produced in limited quantities and have assuredly never sold for the high price listed.
With the Amazon app, you can look up the current prices to see what a similar notebook, gadget or phone would cost. You can also see a large number of reviews. Reviews are key on big ticket Black Friday purchases, but hard to find on the retailer sites, which may not list the product until it goes on sale, which is too late to start researching. If you can't find a review for a specific model, look for the main part of the product model. You may not get the exact same product, but you'll get a good idea for the quality.
Point Inside Mall Maps
Theres no time to dilly dally on Black Friday. If you plan to actually go to the store, you'll want to take the Point Inside mall map app with you. This handy app lists the store locations of over 1,000 malls so that you know where you are going.
Even more important, after hours of hard shopping and tons of coffee, the ability to find the closest restroom.
Stay tuned for more Black Friday news and tips.