Etón BoostSolar & Rugged Rukus Review: Solar Chargers & Sound
The Etón BoostSolar is a small, portable solar cell and battery that can charge your iPhone, Android or other portable gadget while on the go, even if the closest outlet is miles away. The Etón Rugged rukus is a portable Bluetooth speaker that includes a solar panel and a battery, so music can also keep going.
I've used the Etón BoostSolar for a good part of the summer to keep my iPhone and Galaxy S4 charged while working outdoors building a fire pit, planting flowers, cutting up two giant trees for firewood and much more. When I needed music, I turned to the Rugged rukus which could charge while I was working and listening to music.
When I spend 8-10 hours outside listening to music and checking in on social networks in between work, most of my phone batteries can't handle it, especially with the brightness set at full blast, but the Etón BoostSolar kept me going and the Rugged rukus kept me entertained.
Both of these devices are from Etón corporation which makes a full line of rugged and survival minded accessories. My primary use for these accessories is while working outdoors, but they also offer a backup for when the power goers out and I need to keep my gadgets charged to stay on top of weather alerts.
During my time with these two devices, I didn't worry about rain or carrying them around the yard as both are water-resistant and rugged. The Etón BoostSolar and Rugged rukus survived a few sprinkles and a small drop, to keep on streaming music and charging devices.
I started by charging the devices using USB power, but later relied on the sun to get charged up and to keep the music and my devices powered up. The BoostSolar includes a charge indicator on the bottom to see how much power is available, and the battery can pop out for a slimmer charging solution. The battery in the BoostSolar takes a long time to charge, rated at 30 hours, but it is possible to clip it to a bag, so that it can charge all day. The Rugged rukus charges in about 5 hours to deliver 8 hours of music streaming.
The Etón BoostSolar is 330 grams, which is light enough to disregard in my bag, and the Etón Rugged rukus is a bit heavier at 1.2 pounds.
During my testing it did take a long time to fully charge the BoostSolar, but it also kept my gadgets charged while in the yard without complaints. The Rugged rukus also includes a USB port that can charge gadgets while it is in use, though it will limit the power left for music. The BoostSolar can charge phones and tablets like an iPad or iPad mini, while the Rugged rukus is rated for phones.
The Rugged Rukus delivers a good overall sound that is loud enough to fill a decent backyard while working, or to fill up a tent or small campsite. This isn't going to be a full-on party device, but the sound quality is good and in the sun it will keep going and going.
I used the BoostSolar to charge multiple devices, and occasionally the iPhone would say it was a non-supported charging accessory, but ultimately I was able to keep my iPhone and Galaxy S4 charged while in the yard and to top off a HTC One so I could take slow motion videos of a chainsaw in action after I realized the phone was dead as I headed out for the day.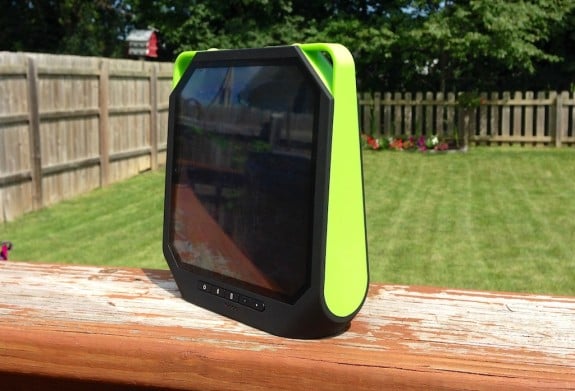 The Etón BoostSolar and Etón Rugged rukus retail for $99.99 each, which is a fair price considering the portable solar power they provide. I was more than satisfied with the ability to charge from the sun, store it in a battery pack and keep my gadgets charged with both of these devices, and the sound quality on the Rugged rukus.

As an Amazon Associate I earn from qualifying purchases.