Evernote for Android Adds Speech-to-Text For Ice Cream Sandwich
Evernote updated its Android app to version 3.6, adding support for speech-to-text and new widget options that let you customize your Evernote experience.
The new speech-to-text feature uses Google's text transcription for Android, which means it should work as well as text transcription elsewhere on the device. The feature will put words into a note instantly as you speak, which is one of the big features in Ice Cream Sandwich.
The new feature is only available to users using Ice Cream Sandwich and "certain other devices." If your phone doesn't have Android 4.0 you'll need to see if the option is available to you when you update. There's no other way to know, as Evernote hasn't mentioned any specific devices.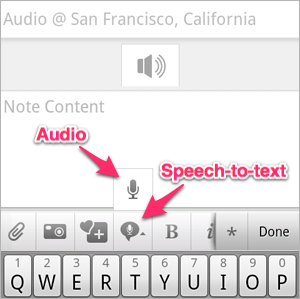 As with speech-to-text in other apps, you'll need a working Internet connection for the transcription to work. You'll also get the best results with a headset.
The other new feature is one that's available to everyone – new widgets.
The new Evernote Widget app adds the ability to choose a theme for the widgets, as well as the ability to choose what's in the toolbar widget. That way you can have exactly the Evernote toolbar widget you want in either green or the new dark theme.
If you don't want a widget toolbar, Evernote Widget now offers 1×1 widgets as well.
With these new, smaller widgets you can put just one Evernote function on your home screen, and it will take up the same amount of space as a single app icon. Finally you don't have the Evernote widget take up multiple spaces when all you really need is the "new note" function.
The new versions of both Evernote for Android and Evernote Widget are now available in Google Play.
Via: Evernote

As an Amazon Associate I earn from qualifying purchases.