Every Sony Smart TV Coming in 2015 Will Be An Android TV
The battle for dominance in the living room is still raging, but already Sony, makers of Bravia televisions, PS4 gaming consoles and more is pulling out ahead. Unlike LG and other competitors, Sony isn't rushing into the smart TV space with yet another platform that users have to reorient their lives around. Instead, Sony's entire smart television line up will run on Android TV, the entertainment operating system that Google announced this past summer.
Sony surprised everyone with the announcement just moments ago. It's releasing a grand total of eleven different smart TVs running Android TV. Sony announced the televisions yesterday during its big media briefing. The televisions themselves range in price and size, but Android TV and a few extras tie them all together. Each of these Sony Android TV smart televisions come with a wireless trackpad that allows users to control what's going on their screen without pick up a keyboard or using their smartphone. In effect, the trackpad is the device's remote. The remote/trackpad includes a microphone so that Sony smart television buyers can use Android TV's built-in Google search.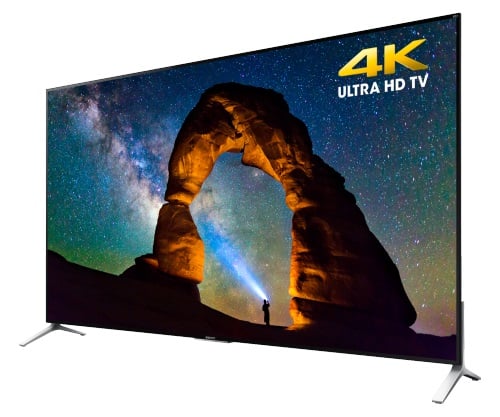 Each of the 11 different Sony Bravia televisions running Google's Android TV operating system have a new 4k Processor at its core. These handle all of the heavy lifting that Android TV requires. Sony is also throwing in Google Cast compatibility so that users can link their television to their Android smartphone and immediately send audio and video to the big screen for everyone to see.
The televisions themselves range from about 43-inches to 75-inches. We don't know pricing yet, but depending on the size of the display potential buyers could be looking at spending a fair amount of money for a Sony smart TV running Android TV. In addition to Ultra HD televisions, there are some devices with 4K displays scattered throughout the forthcoming line up.
Read: Android TV Coming to Battle the Apple TV, Fire TV & Xbox One
Android TV is yet another product Google hopes will dominate the living space. It follows the Nexus Q, Google TV and the Chromecast streaming stick that sells for $35. Android TV is about as close as users can get to having an independent Android set-top box. Like the Apple TV, the point of purchasing the device is to get the media you already own onto your television set. Apps play a big part in the experience too. By going with Android TV, Sony has saved itself from having to build yet another television ecosystem that developers may or may not support. Set-top box functionality built-into televisions is thought to be better since users don't have to worry about maintain yet another device or running any cables. Google sells a $99 Nexus Player for users who don't want a smart television, but do what set-top box features.
Read: Nexus Player: What You Need to Know
Sony's website shows information about each of the televisions that debuted at CES 2015. We know that each is coming in 2015, we just don't know the exact date. Google makes Android TV available to device makers already. In theory, we should see more Android TV-powered televisions and set-top boxes in the coming months.