Everything you Need to Know About iPad Ergonomics
The iPad is an incredibly popular gadget, selling more than 15 million last quarter. It turns out that the millions of iPads in our hands can put a strain on our shoulders, necks and backs — in addition to your wallet.
In a recent study by Microsoft and the US Department of Environmental Health, researchers found that tablet users have a higher potential for "neck and shoulder discomfort" versus using a notebook or a desktop computer.
Yes, iPad Shoulder is a real medical problem.
The study found that iPad users experienced greater head and neck flexion angles than using a traditional computer. The study found that the worst way to use your iPad is on your lap. Wether you are watching a movie or typing, keeping your iPad on your lap places greater strain on your neck and shoulders, which can result in pain and potentially greater posture issues in the long run.
While the study focused on slate tablets in general, the iPad is at the top of the list. Later this year we expect a number of Windows 8 tablets that are in a similar form factor as well as the Lenovo IdeaPad Yoga, which can convert from a notebook to a slate tablet. While you wait for this tablet to help you find ergonomic angles, let me share some ways to use your iPad or similar Android Tablet in an ergonomic manner.
Using mobile devices like the iPad with poor posture could lead to arthritis or other health issues earlier in life.
How to Hold the iPad
Steve Jobs famously told users of the iPhone 4 that they were holding it wrong. Jobs was talking about the antenna issues, but as it turns out there is a wrong way to hold the iPad.
According to the ergonomic study, the best way to hold or use your iPad is on a table or other surface that raises the height of the tablet. In this method the tablet user was closes to a neutral position. A neutral position is one that places the least amount of stress on your muscles and body, which in this case will help prevent neck, back and shoulder pain while using the iPad.
The easiest way to hold your iPad without breaking your neck is to keep it off your lap. This means holding it in your hands while using it on the couch or placing it on a TV stand or table when possible.
Keep in mind the same angles that are good for your neck, shoulders and back could be hazardous to your hands, so if you are using your iPad as a notebook, you might want to invest in a case that can double as a keyboard.
Ergonomic iPad Accessories
Some of our favorite iPad cases, stands and accessories can help you achieve good iPad posture
Smart Cover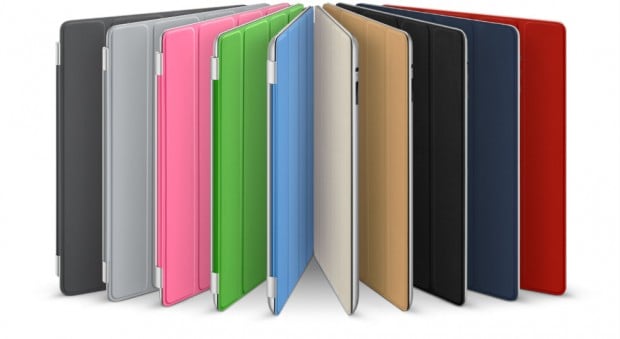 If you want to go with an Apple standard case, the Smart Cover can be used to get your iPad into a better ergonomic position on a table or desk. This is a bare minimum, but you can find it at any Apple retailer.
ZeroChroma
I picked up the ZeroChroma iPad 2 case at CES this year and I have been very impressed with the functionality and sturdiness of this stand. A collapsible leg folds out and rotates allowing you to place the iPad on a table in either landscape or portrait orientation at pretty much any angle. Look for a full review soon, but the ZeroChroma iPad 2 case is impressive and sure to help you keep your neck and shoulders in a neutral position.
Joby GorillaMobile Ori
https://youtu.be/V0FL0hJ_xNo
The GorillaMobile Ori iPad 2 case is lightweight and offers a different take on collapsible cases. This case earns an inclusion in our roundup of ergonomic iPad cases because it lifts your iPad high off the table, allowing you to stay in a neutral posture position while you use your iPad.
iOMounts
We gave the iOMounts iPad stand a Best of CES award thanks to the ease of use and ergonomic placement of the iPad when used at a desk. This tablet stand allows you to mount any tablet to a magnetic stand that lifts your iPad up to eye level for extended use. The stand has a sturdy metal base and feels great.
Ergotron Universal Tablet Cradle
Ergotron makes some of my favorite ergonomic accessories. From mounts to standing desks they have ergonomics mastered, which is why I was excited to see the Universal Tablet Cradle which allows you to mount your iPad to an Ergotron mount or to mount it next to your monitor for use while at your desk.
iPad 2 Keyboard Case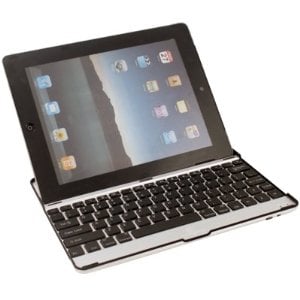 If you plan to type on your iPad a lot and want to do it in an ergonomic manner you should look for a keyboard case. I love this $30 iPad keyboard case that acts as a protective front cover, stand and Bluetooth keyboard. There are a number of solutions out there, but for the price it's hard to beat this case. With this case you get the iPad up in an ergonomic position and you can keep your hands at a lower position to avoid stress from tapping on the iPad for long periods.
Read: 30 Amazing Pad 2 Cases
iPad Ergonomics Tips
As with any activity, staying in one position for extended periods is not ideal. Here are a few basic ergonomics tips to make your iPad and tablet use healthier.
Breaks – Take breaks often. Look around the room, stand up and move a bit.
Stretches – Here's a collection of general office stretches to keep yourself limber. I suggest working one or two of these into your iPad use if you are a heavy user.
New Positions – You have a very portable device, so find new positions to use the iPad in. Wether you are switching from laying down to sitting up or leaning back to standing, a little change will do you good.
—
How do you stay ergonomic while using your iPad or working mobile?
Full Text of the iPad Ergonomic Study.