Sprint HTC EVO 4G LTE Review: A Worthy Successor to the Original (Video)
When Sprint had debuted the original WiMax-capable HTC EVO 4G nearly two years ago, it was an instant hit on the Now network. Not only was the HTC EVO 4G the first 4G smartphone in the world taking advantage of Sprint's then speedy WiMax network, but it brought some new features and pizzazz to the iPhone-less carrier. Along with quirky consumer-centric features, such as simultaneous voice and data capabilities, dual cameras to capture and share the moment, and a whimsical kickstand to replay and relive those memories and videos you've just captured, the biggest draw to the HTC EVO 4G at the time was its massive 4.3-inch display that quickly became Android's anti-iPhone campaign.
Now, two years later, and though much appears to remain the same, a lot has also changed, including the fact that Sprint is now a carrier that supports Apple's flagship iPhone smartphone. And despite now supporting the iPhone on its network at the same $200 base price that the EVO LTE is retailing for, join us as we review the EVO 4G LTE and find out why this is one of the best smartphones out there right now.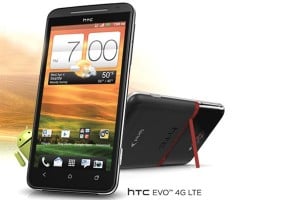 Video Review
Hardware
Design and Hardware. The HTC EVO 4G LTE improves a lot on the original with a larger, higher resolution, and brighter display. On the front of the phone, you'll notice right away that the HTC EVO 4G LTE has a bright and massive 720p HD display that measures 4.7-inch from corner to corner on the super sharp Super LCD 2.0 display. And despite its larger size, thanks to the relatively thin bezel surrounding the screen, this phone is only slightly larger than the smaller 4.3-inch Motorola Droid RAZR and Droid RAZR Maxx on Verizon Wireless.
The new screen technology makes the screen brighter and more comfortable to view over extended periods of time, like for e-book reading. The panel is bright enough to read even under direct sunlight.
In terms of resolution, the display is almost as good as Apple's Retina Display on the iPhone. When viewing the New York Times to fit the screen on the HTC EVO 4G LTE's browser, you can make out even the smallest of text. When viewing e-books through Google's Play Books e-reader app (free on the app store), I noticed that there is less eye strain and fatigue and the screen is almost as comfortable as reading on e-ink. I am not sure if it's the improved technology of the display, or the fact that Google has a greyscale background and black text that made e-reading more easy on the eyes, but the display is not to be dismissed on this device.
A lot of the fun quirks that made the EVO franchise stand out is mostly gone now from the front of the device. From the front, you'd barely even know if it's an EVO phone unless someone told you or you're totally geeked out. By that, I mean the typical bubble motif that surrounds the standard Android navigation keys are gone, and HTC opted instead to go with cleaner Ice Cream Sandwich navigation keys. The trio of capacitive buttons sit just beneath the 4.7-inch display.
Up top, you have the mesh speaker grill and embedded within that is a blinking LED notification light on the right side of the speaker to give you visual notification of alerts without having to turn on the screen. To the right of that above the display is the front-facing camera.
The phone is held together by a brushed metal stainless steel band which surrounds the side of the phone. It's an attractive feature that holds everything in place as well as gives the phone some added strength.
The sides are relatively clean. On the left, you have a single port for the charge and sync micro USB port. Towards the top, you have the headphone jack, a noise cancellation microphone, and the power button. On the right hand side, you have the volume up and down rocker up top and towards the bottom there's a dedicated dual-stage camera shutter button. And the bottom is clean save for a pinhole for the microphone.
The backside of the phone is intersting with the top third of the phone having a black piano glossy plastic finish while the bottom has a matte black metal finish. The two partitions are separated by a red band that divides matte from glossy.
That red band serves to house the kickstand, a popular feature and carryover from the original EVO 4G, but on this model, the kickstand is a bit harder to activate.
The kickstand is spring loaded so it will stay open even with the weight of the phone on it. The nice thing is that the kickstand can now be used in three different ways. You can use it the traditional way, upside down so that the charging port is exposed so you can watch a video and recharge at the same time. Or you can even use the kickstand in portrait orientation, though this is the least stable of the three methods to prop up your phone.
The glossy plastic piece can be removed to access the micro SDHC card slot. The phone comes with 16 GB of internal storage and users can add up to 32 GB additional storage through a memory card. The SIM/micro SIM card is non-user accessible and neither is the batter.
Camera. On the rear side, you do have the same 8-megapixel camera resolution that's found on the original HTC EVO 4G. The camera, along with the variable lighting LED flash, is housed in the center of the glossy piano black piece. On this year's model, HTC included a dedicated image processor called HTC ImageSense to handle photos. Also, the lens has been retooled and redesigned to give users the best camera experience. The camera does have a wide angle frame of view, and can be activated either via software or with the shutter button. Of note, unlike with the Sony XPERIA S smartphone, the shutter button cannot activate the camera when the display is off or when the phone is locked; the hardware button can only activate the camera when the phone is on and unlocked.
Audio. Sounds came out loud and clear both for calls on the earpiece speaker as well as the loud speaker on the center bottom portion on the rear. The HTC EVO 4G LTE, like its cousin the HTC One X, is a Beats Audio enabled device though one that isn't visually branded as such on the phone. However, the software audio profiles to enable Beats audio tuning is present.
Phone and Connectivity
4G LTE. The HTC EVO 4G LTE is a 4G LTE smartphone for Sprint, though one without a proper home right now. Early adopters of this device should know that they won't be getting 4G LTE speeds at this time as Sprint has thus far not yet activated its 4G LTE network. Instead, users will be confined to 3G speeds right now as the EVO 4G LTE does not support 4G WiMax, unlike the original. When Sprint does finally activate 4G LTE in your area, you can expect to find faster mobile broadband network performance. Sprint's rivals promise speeds up to ten times faster than 3G for LTE, so it will be interesting to see how the experience of LTE will shape up once the network is launched for Sprint.
And though 4G is not currently available right now, Sprint has tweaked its network to allow simultaneous voice and data over its 3G network. This means that you can still load webpages while in the middle of calls should you need to check information on the web while on the phone. In my experience, loading data and webpages while on a phone call was painfully slow and the feature worked some of the time, but not always.
HD Voice. Sprint also says that this phone will support HD voice capabilities for the carrier. This feature is not yet available and will come on at a later time. It should also be noted that HD voice will also require the other party to have an HD voice compatible phone for the feature to work. That said, calls sound good on both the earpiece speaker and the loud speaker without HD voice enabled at this time. Calls did sound a little hollow, but it's no worse than any other phone.
HTC People App. HTC's default contacts app called People gives users more control over how they integrate and manage their contacts. In addition to synchronizing with the pre-installed Facebook app and with HTC's Twitter synchronization engine, users can pull in contact pictures, latest emails and SMS conversations with a contact, Facebook galleries, and also block callers as well through the app management.
Software
Android 4.0 Ice Cream Sandwich. The HTC EVO 4G LTE launches with Google's most current Android 4.0 operating system. With Ice Cream Sandwich on board, you'll get new features such as Android Beam and Face Unlock.
Also, rather than dismissing all your notifications, like on the Samsung Galaxy Nexus, you can now dismiss individual notification from the Notifications Slider just by swiping each individual notification right or left. You can also tap on the Clear to clear all notifications. The Settings menu for the global device settings is also quickly accessible through the Notifications Slider, which is nice as the Android Menu capacitive touch button is no longer found on the device so rather than dig through the apps drawer, users can jump to their settings from inside the notifications tray.
For users upgrading from the original HTC EVO 4G, the most notable change is perhaps the user experience. Instead of four capacitive touch Android navigation keys on the front of the device (home, menu, back, and search), users now have three Android navigation keys for back, home, and multitasking. Gone are the menu and search keys–the former is now context-sensitive and placed within the app itself and the latter is just omitted in favor of on-screen search on the home screen or in the app itself. For an old-time Android user, I do miss having quick access to search key, especially for voice search.
HTC Sense User Interface. Like the original HTC EVO 4G, the new 4G LTE model comes with HTC's proprietary skin on top of Android 4.0. The new version, dubbed Sense 4.0, adds a fresh look to Android and the skin does benefit in aesthetics thanks to the crisp 720p HD display of the device. The dual-core Snapdragon S4 processor clocked at 1.5 GHz as well as the 1 GB of RAM makes transitions and animations buttery smooth on the HTC EVO 4G LTE. I haven't noticed any slow downs  while the phone is running in the time I've used the device so far. And unlike past EVO and HTC devices, I have not once gotten a pop up message stating that I was out of memory.
We've covered HTC Sense 4.0 previously in our review of the HTC One X–you can view that review if you need more information.
Memory Management. One complaint that has propped up is that HTC is using an over-aggressive background task management algorithm. Though this hasn't really been much of a problem for me, power users will probably notice that sometimes background apps will close randomly to conserve memory.
Pre-Installed Apps. The good news for everyone is that while Sense maintains its attractive good looks and ease of use, HTC has managed to skim down on the bloatware and preloaded apps. On HTC's side, custom social network apps, such as HTC FriendStream for Facebook and HTC Peeps for Twitter access has been removed in favor of native first-party apps–Facebook is preloaded and HTC only includes a small Twitter client to synchronize images with contact photos; users can download the official Twitter app or a third-party app through the Google Play Store.
On the carrier side, Sprint has shown much restraint in not pre-loading its suite of apps, which in the past include things such as Sprint Navigation for GPS, Sprint TV, Nascar, and others. Users can still get these apps through Google Play Store if they so choose, but this will create a cleaner device. Only Sprint Zone and a visual voicemail app comes on the device.
Also, the dearth of pre-loaded apps mean that a pre-installed Office app isn't found on the EVO 4G LTE. Users can purchase or download one from Google Play Store if the need to be productive on the go. In the past, HTC had included Polaris Office on devices such as the EVO 3D and the EVO View 4G.
Email. HTC has also trimmed down its own email client. Gmail users can use the native Gmail client as well, but Exchange, IMAP, and POP email users can opt to get an Outlook-like experience through HTC's email app. The cleaner interface really highlights the crisp 720p HD display as text and images do come through sharp and clear. The downside though is that you don't have quick access to your starred (favorite) emails or your unread ones quickly, like you did with prior versions of HTC Sense, such as the one found on the HTC EVO 3D smartphone. The quick carousel strip on the bottom to give you easy access to unread, appointment requests, threaded view, starred, or all your emails is gone in favor of a simplified chronological list view of your messages that combines both read and unread mail messages in Sense 4.0 on the HTC EVO 4G LTE.
Productivity. It's really a shame that HTC didn't pre-bundle an application to open, edit, create, or view Office applications such as Microsoft Word, Excel, or Powerpoint files. Users instead will need to choose one from Google Play Store to install or purchase. On older HTC EVO devices, the company pre-bundled Polaris Office. It's a small omission, but one that will surely be missed by enterprise customers. Fortunately, consumers who do not wish to shell out additional money for an Office client can instead opt to stick with Google Drive, a Google-based cloud offering that allows you to access your Google Docs on your device; that app is available free on the Google Play Store.
Multimedia and Camera
Digital Stills. The digital camera on the EVO 4G LTE may sound like it's the same from the original EVO 4G, but it's a world apart. The much improved camera definitely is a pleasure to use and the image quality shows too. For serious photographers who rely on their smartphones to capture photos, having a dedicated camera shutter button helps, and the EVO 4G LTE comes equipped with a dual-stage camera shutter button.
A minor quip about the shutter button is that you cannot quickly activate or call up the camera when the display is locked or off. This feature is present on the competing Sony XPERIA S, but on the EVO 4G LTE, your device has to be on and unlocked for it to work.
That aside, in bright and sunny outdoors lighting condition, the camera does remarkably well and automatically adjusts wherever you pan your camera. This is nice as it allows for absolutely painless and quick auto-focusing and the result is zero shutter lag. This means that you can capture burst modes for action or sports photography easily without having to wait for the camera to focus.
There are also a number of filters a la Instagram, effects, and settings within the camera menus, which are easily accessible via the touchscreen. You can adjust ISO settings, white balance, and other features as well.
The snappy performance of the camera is brought forth by HTC's dedicated imaging chip called ImageSense on the phone. Additionally, HTC has utilized a wide angle lens so you can capture more of your scene in a single shot and the optics has been improved. Overall, it's one of the best cameras available today on a consumer camera. HTC has done a lot right with this camera. Auto-exposure works much better than on prior HTC cameras. That means that if you tap to focus on a shot with high dynamic range, you can really highlight a darker area of your frame or a more bright area.
The variable lighting LED flash means that the flash adjusts its brightness output when you use it. This really helps in the dark so you don't end up with a super bright and over-exposed photo. However, despite the flash being brighter and working fine, there is still considerable amount of noise when shooting photos in a dark environment and the LED flash doesn't work quite as well as the Xenon flash that powers the Nokia N8 and the Nokia 808 PureView, for example. Most consumers, however, will just be happy to get better image results when they're out with friends at a dimly lit restaurant, bar, or club, so for the purposes of most people, the camera flash works well and fine.
However, there are some minor quirks that hold the camera back a little. First, while touch to focus is still present–you'll probably rarely need to use this as the continuous auto-focus will make this feature redundant most of the time, there is no confirmation really that the camera has locked focus or exposure for the capture. Sometimes, when shooting macro–or as HTC calls it Close Up mode–you'll end up with blurry shots if you hold the camera too close to the subject, and the only way you'll know this is by viewing the photo after you've snapped it.
Another quibble is that the auto white balance setting struggles sometimes in artificial light and has a hard time adjusting. That's typical of most cameras and camera phones, and the HTC EVO 4G LTE is no exception.
Video Performance. Videos captured at both 720p and 1080p HD settings were smooth and clear. Audio was good as well. The nice thing about the video camera is that now you no longer have to choose between capturing a photo or a video for important moments. Now, you can record video and still press on the camera shutter button to capture photos simultaneously. Your photos, however, would be captured at a reduced resolution when compared to just taking photos solo.
Sharing
DLNA. Songs, videos, and photos on the device can be shared with other WiFi-connected devices through DLNA. HTC has an app on the EVO 4G LTE called Media Share that will facilitate this sharing.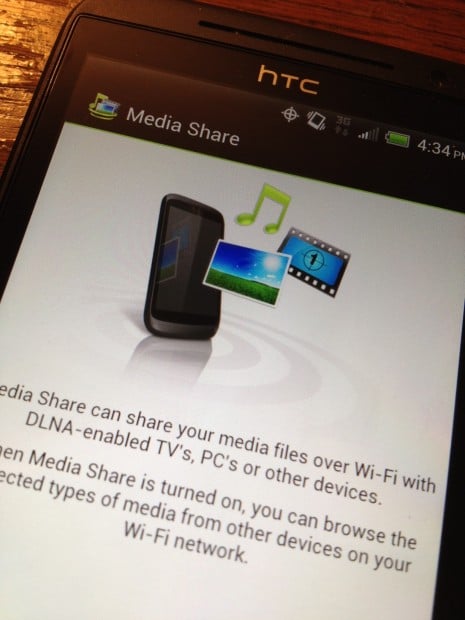 Android Beam. As the device comes with Android 4.0, users can also share small bits of information quickly with other NFC-equipped devices through NFC.
Social Network. As with typical Android fashion, you can quickly share things quickly and easily to Facebook, Twitter, email, or SMS.
Google Wallet
The EVO 4G LTE comes equipped with an NFC radio inside. This allows the device to use the Google Wallet app as a form of payment at physical retail locations. Essentially, rather than paying for physical goods at a retail store by swiping your credit card, various retailers like Gap, Banana Republic, CVS, and McDonald's have also installed the NFC RFID reader terminals. Here, all you need to do is power on your phone–the Google Wallet app doesn't need to be running–and place it near the terminal. You can pay for goods this way and Google Wallet will handle the transaction with either a pre-paid Google Mastercard or a stored credit or gift card from select merchants.
Right now, with an NFC phone, if you sign up for Google Wallet, Google will give you a $10 credit on its pre-paid card.
NFC support isn't ubiquitous yet, and it will take some time before this feature is more functional.
NFC can also be used to read tags and codes. Rather than using the camera to scan a barcode, venues may embed NFC chips to give patrons more information, discounts and promotions, or links.
NFC will also be used in locks as well. Rather than using a key to unlock your front door, you may buy an NFC lock in the future and use your phone to gain entry into your home.
Battery Life
Other reviewers have noted that with the LTE turned on, the EVO 4G LTE can manage about 10 hours of battery life. The thing to note with that estimate is that having the LTE radio on while there is no LTE network would consume battery quicker than if the phone has a lock on an LTE signal.
That said, when we disabled the 4G LTE radio under the settings and opted for a 3G-only connection–there is no LTE yet so it's futile to have the radio on anyways–we managed to squeeze 20 hours of juice and that's with the screen constantly on for over four hours trying to read an e-book. That's double the battery life of what most reviewers are quoting right now.
The battery on the HTC EVO 4G LTE is non-removable, unlike on prior HTC and EVO smartphones. That means you cannot carry around a spare and swap a fresh battery in when you run out of juice. Fortunately, though, at least right now on 3G, it appears that battery life isn't too much of a concern.
Compared to the Galaxy Nexus, which does have a removable battery, the HTC EVO 4G LTE has expandable memory. You'll have to figure out which feature is more important to your mobile workflow.
Conclusion
The HTC EVO 4G LTE will retail for $200 on a two-year contract on Sprint. The device will contend at this time with the Smasung Galaxy Nexus on the high-end LTE market on Sprint's lineup. At $200, it offers excellent value to those who are patient as LTE, the phone's big feature, is still not yet quite readily available on the Now Network. Given Sprint's claim to fame with unlimited data without throttling, power users who are willing to go through Sprint's Network Vision expansion growing pains will be handsomely rewarded in the future with a device that's fast, powerful, fun, and sleek all the while being able to consume, stream, and download as much as they want–and the EVO 4G LTE can handle it all.
There are some other minor cons that we've taken issue with in this detailed review, but nothing that would stop us from recommending the HTC EVO 4G LTE on Sprint's network. A much refined design, improved camera performance, the promise of HD voice and LTE connectivity, a beautiful and vibrant display, and excellent battery life right now on 3G make this a standout offering.
After two years, the HTC EVO has undergone a lot of polished. Even advanced features such as simultaneous voice and data over 3G CDMA/EVDO are now possible on the EVO 4G LTE. Now, we're just waiting for Sprint to polish off its own network and flip the LTE switch on.