7 Exciting Apple Watch Stands & Docks
This collection represents the best Apple Watch stands and Apple Watch docks that you can buy right now. These stylish and functional Apple Watch accessories offer a better way to charge the Apple Watch without just tossing it on your night stand.
You can pre-order most of these Apple Watch docks and stands now, but some will not ship until closer to the Apple Watch release date or soon after.
The Apple Watch charges with a Magsafe adapter that connects tot he back of the Apple Watch with a magnet. The Apple Watch is a device you will need to charge every night with an estimated 18 hour battery life. Apple includes one charging cable with the Apple Watch that you can carry with you or sit on your nightstand or desk.
Read: Apple Watch Bands: 7 Things Buyers Need to Know
These Apple Watch stands use your Apple Watch charger, instead of incorporating one into their design. If you plan to use these, you may want to order a second Apple Watch charger so you can add one to your Apple Watch stand and keep one for travel.
Without one of these Apple Watch accessories the Apple Watch lays flat on your nightstand or desk. While you are not wearing the watch you will not get notifications, so a stand won't bring it up to a view where you can use it for app notifications, but it will keep your cord in one place and help you display it.
Read: 7 Things You Can Do on the Apple Watch Without the iPhone
Here are the best looking and most exciting Apple Watch stands and Apple Watch docks we found so far. You can buy a stand or dock from $20 on up and they come in a variety of colors and styles.
Spigen Apple Watch Stand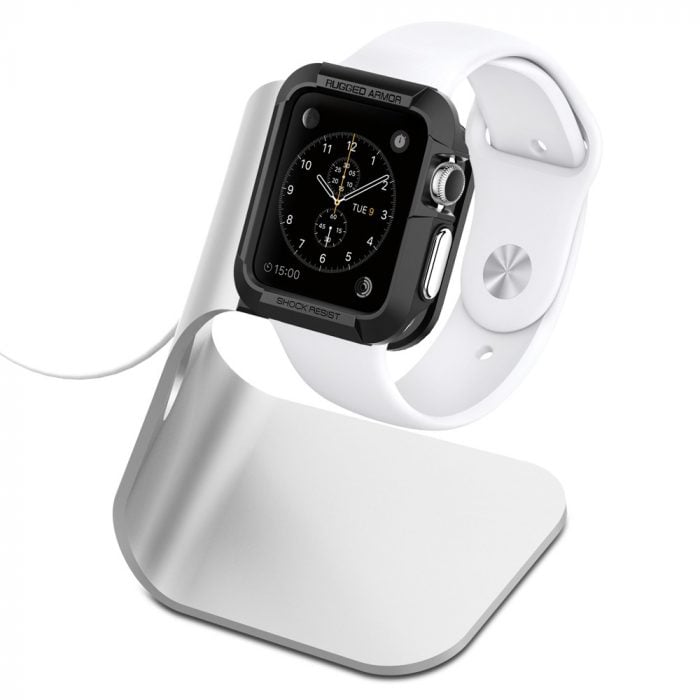 The Spigen Apple Watch Stand is just $20 on Amazon and it offers everything you'll find on the more expensive options. If you want to display and charge your Apple Watch on a beautiful Aluminum stand that doesn't break the bank this is your option.
You need to use your Apple Watch charger and it fits in and the cord trails off to the side. This is available in silver and arrives starting on May 8th.
$19.99 at Amazon

As an Amazon Associate I earn from qualifying purchases.