Exciting LG G5 Rumors Emerge
There are multiple exciting new Android smartphones coming in 2016, but the LG G5 could be one of the best. This month multiple new rumors have surfaced about what's coming from LG, and today a huge leak revealed the plans of a metal design, two screens, three cameras and more.
Lately we've been hearing a lot about the upcoming Samsung Galaxy S7. However, they aren't the only ones with an impressive phone coming in early 2016. The LG G5 will reportedly be released earlier than expected, and feature some fancy new technology. Read on for more details.
Read: LG G5 Release: Key Details Revealed
The link above goes over some information about the upcoming LG G5 thanks to a user on Reddit that apparently already has the device. Then today Evan Blass, known as @evleaks, revealed even more information to VentureBeat. Here's what we know about the LG G5.
While nothing can be 100% guaranteed until the smartphone is released next year, the details revealed today sound quite realistic. Evan Blass spoke with someone close to LG, or LG's plans, and found out the company will offer a slightly smaller 5.3-inch display, but counter that drop in screen size with two screens, three cameras, and tons of other unique features.
According to sources the LG G5 will have an all metal design, similar to the Galaxy S6 or HTC One M9. LG will add a fingerprint scanner for security, but also add a few other extra features we have (and haven't) seen before. Similar to the LG V10 from last month, next year the LG G5 will have two screens on the front of the display.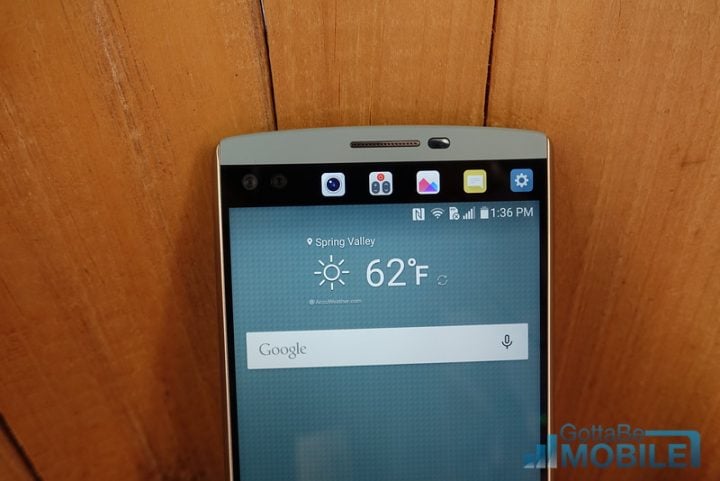 One will be the main 5.3-inch 2560 x 1440 Quad-HD display, and a secondary 140 x 1040 resolution 2.1-inch "ticker" display above it. This can be used to quickly open apps, put names or Twitter handles on the phone, or open apps while the phone is off and more. The LG V10 was the first phone with such a feature, shown above, and it's coming to the LG G5.
That's just one piece of the puzzle too. The LG G5 will have two 16 megapixel cameras on the back, for 135-degree wide-angle photos, and likely some additional software tweaks like focus effects and more. There will also be two cameras on the front, along with a laser autofocus, dual LED flash, image stabilization and more for the rear camera setup. Then as we said above, the rear dual cameras will be accompanied by a fingerprint scanner, as we've seen in earlier leaks.
This leakster confirms earlier reports of a powerful 8-core Snapdragon 820 processor with 3GB of RAM, 32GB of storage, a micro-SD slot, and reportedly a smaller 2,800 mAh battery. As a comparison, all recent LG G series phones have had a 3,000 mAh battery. It will still be removable, but we're hearing the SD card slot hasn't been confirmed.
And finally, LG has another trick up its sleeve. This report suggests that LG will introduce a brand new feature and slot on the LG G5 called the "Magic Slot". This will reportedly be an area for certain 3rd party accessories to attach and work with the smartphone. Like hardware expansion. The Magic slot will allow buyers to add a 360-degrees camera, action camera, VR cameras, hardware keyboard, audio amplifiers, health and fitness tools and other accessories. Essentially being a modular plug that can do multiple things, hence the name the Magic Slot.
It all sounds a bit odd, but what buyers should take away from this is the LG G5 will be a premium high-end smartphone with some unique features from the LG V10, some new additions, and tons of accessories to allow it to do multiple things other smartphones can't. No details on how this will work, what all will be offered, or a release date were revealed. That said, we're hearing the LG G5 could be announced before the end of Q1, so before the end of March. Stay tuned for more details.

As an Amazon Associate I earn from qualifying purchases.