EyeEm Offers a Great Alternative to Instagram for iPhone and Android
EyeEm is an alternative for those who aren't satisfied with Instagram for Android or just want something different with some handy extra features. EyeEm is a photo sharing and filters app that doctors up smartphone photos to make them more interesting. EyeEm has its own sharing service and works with other services, including Facebook, Twitter, and Flickr.
EyeEm's developers take the social aspect of Instagram and improve on it using themed group albums. EyeEm automatically creates group albums based on different interests.
This means users can subscribe to items they find interesting, such as basketball without being flooded with photos of cats. For example, if you like black and white photography you can create black and white photos and tag it as such. All the photos tagged as black and white will show up in that group album for all followers of the group to see. EyeEm users can use this feature to create tags for special events, groups, organizations and other interests.
Another advantage is that EyeEm provides a live view of filters, allowing users to preview what the edited picture will look like before snapping photos.  Instagram requires users to shoot vanilla photos and apply effects later.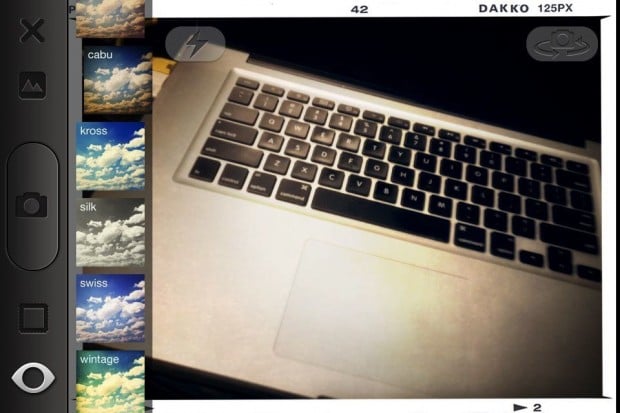 EyeEm bests Instagram when it comes to finding people to follow. Users find people based on the tags mentioned above. This helps users find people of similar aesthetic tastes and subject interests. EyeEm also finds users nearby.
Once users tag a photo with a certain category, that category will be available for use with a single touch. Thanks to these tags there are a lot of cool albums ready for EyeEm users to follow. For example there is an album on the service called Pizza. Follow the category to see only pictures of pizza and add pizza pics. Why  follow such a group? Maybe you'll find some cool topping combinations to try.
After users take a photo, the interface lets users try other filters or borders with the swipe of a finger. Swiping left/right changes the filters and up/down changes the border. That's a lot faster and simpler than Instagram's method of adding filters.
Right now there aren't nearly as many people using this app as there are using Instagram, but I think that will change as word gets out. Instagram is so popular that EyeEm may never overtake it in user base, but I think the community will grow when people learn about the awesome features not included with Instagram. The camera interface and tagging is far superior and the live view of photos with filters and borders applied makes it easier to shoot great photos.
The app is free for both Android and iPhone users. EyeEm requires a Facebook or EyeEm account to use the app. EyeEm provides a username and web address to share your photos online. You can find me at www.eyeem.com/kevinpurcell.