Facebook announces Facebook Home, Coming To Google Play April 12
Today at an event in San Francisco Facebook announced Facebook Home, its new suite of apps for Android.
Facebook's goal with Home is to build a phone experience built around people, instead of apps. To do that the social network replaced the lockscreen and homescreen with what it calls the Cover Feed. That replaces widgets and a grid of apps with a slide show of photos and stories.
The Cover Feed will display everything from friends and family on Facebook with photos that take up the entire display. Links and status updates will also show up in full screen, with a user's cover photo displaying behind updates with no photos.
From the new homescreen users can tap and hold to zoom out to see full photos, double tap to like an update and tap the comment icon to comment on it, just as they would in the Facebook app.
At the bottom of the Cover Feed are the user's profile photos, which they can use to launch apps with a quick swipe. Facebook Home lets users bookmark apps for quick access, or they can select any app from the app drawer. The app launcher also includes buttons to easily post a status update, photo or check-in to Facebook.
Notifications on Facebook Home look a lot like iOS when they appear on the Cover Feed, with bars that display previews of notifications and app icons. Users can choose to open apps from those notifications or swipe them away to get to them later.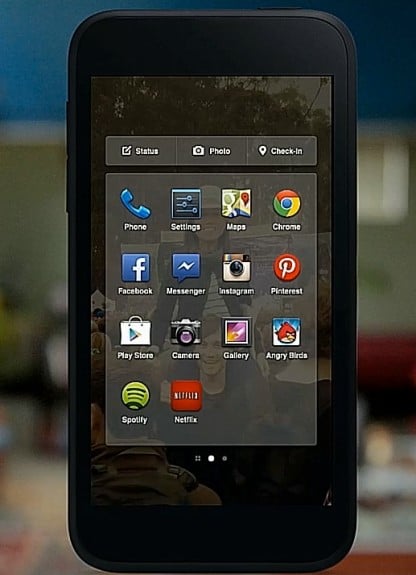 When inside an app the standard Android menu bar sits at the top of the screen to show notification icons. Chat, however, behaves differently.
Facebook Home's Chat Heads feature uses the Facebook Messenger app for both Facebook messages and SMS messages. When the user receives a message, the sender's profile photo will appear in a bubble on screen with a preview of the new message. Users can then tap that icon and respond to the message without ever leaving their current app. When the chat is over, swiping the bubble to the bottom will get rid of it.
Facebook will start to roll out Facebook Home on April 12 in the Google Play Store. At launch it will work on the HTC One, Samsung Galaxy S4, HTC One X, Samsung Galaxy S3 and the Samsung Galaxy Note 2. Over time it will come to more phones, but for now it will only work on those five as well as the new HTC FIrst.