Facebook App Center Offers New Way to Find Apps
In an announcement today, Facebook unveiled its App Center, a place where iOS and Android users who use the Facebook app will be able to find and download both free and paid Facebook apps.
In addition to being able to download free and paid applications, Facebook users will also be able to find HTML 5 applications for the Facebook app. It will also feature desktop applications as well.
The App Store is not live yet but Facebook will be launching it in a couple of weeks, after developers have had time to prepare for the new mobile app store. The App Center will feature games like Draw Something, Pinterest, Spotify, Battle Pirates, and Viddy and each application found on the App Center will feature its own page, akin to the apps found on Apple's App Store or Google's Google Play Store.
Speaking of Apple and Google, while it might seem like Facebook is trying to compete with them, the company has told VentureBeat that that is not the case and that the App Center is going to be used to grow applications that specifically use Facebook.
Facebook says it will be driving traffic to both the iOS and Android apps as well. From within the App Center, users will be able to browse "apps that are compatible with their device, and if a mobile app requires installation, they will be sent to download the app from the App Store or Google Play."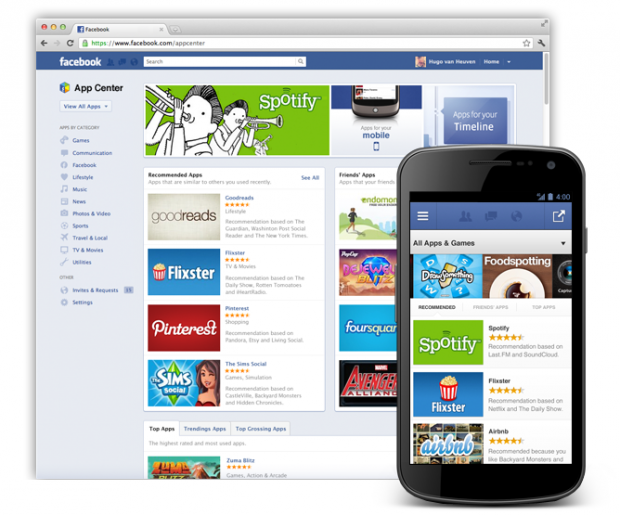 Unlike the App Store and Google Play Store, there will be no 'top apps' listed within the App Center. Instead, apps that Facebook deems "well-designed" will be displayed prominently while those that receive poor rankings will not be listed.
Facebook determines app ratings using metrics like engagement and user ratings. So, instead of a full-fledged app store, the App Center seems like it's more of a place where users can come for app recommendations.
Look for the official roll out in just a few weeks.