Facebook Arrives in the Windows Store
After more than a year of suffering with opening Facebook from a web browser or using temperamental third-party clients, Windows users finally have a native application to post their status updates and place new friends requests.
The new application debuted in the Windows Store this morning along with the Windows 8.1 update that's now rolling out to Windows 8 users. In addition to allowing users to read the status updates of friends and family, this update also includes support for managing Facebook Pages, uploading photos and pretty much every feature that Facebook's website does.
Facebook for Windows also supports the platform's unique features too. The app's Live Tile automatically alerts users to new pending notifications and users can also open other applications with Facebook open.
Unfortunately the application can only shrink down to 50% of the screen. In contrast, many other applications can shrink down to as much as 25% of a user's screen. It also appears that this first version doesn't support the Share Charm like other social media applications on Windows. Both Twitter and the People app allow users to instantly share information in many apps directly with friends with just a few clicks.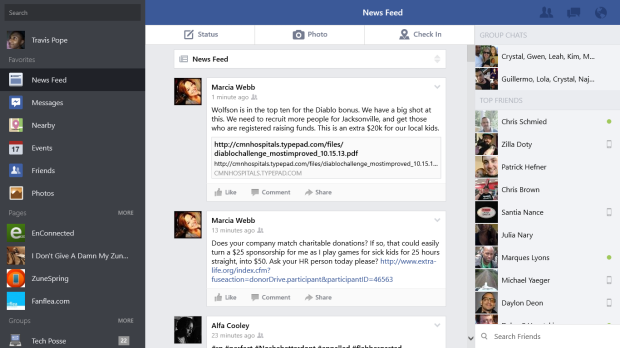 With Facebook now officially in the Windows Store, Microsoft has scored a crucial win for users. Until now, Windows users relied on Facebook's web interface. While that's not a big problem for Windows laptop and desktop users, tablets running Windows RT sometime struggle to load the site correctly. A mistake this past week left Windows RT users looking at Facebook's pared down mobile website for days.
Read: Windows 8.1 Release is Here – Free Update in Windows Store
On the other hand, Facebook's arrival doesn't necessarily indicate that Microsoft's big-name app count is on the rise. Many developers are simply ignoring the platform despite its relatively large user base. That could be because of the failure of the Surface RT to make a sizable dent in Apple's iPad market share.
For what it's worth, users can still post pictures and status updates to Facebook by using the Share Charm and routing them through the People app included with every Windows 8 and Windows 8.1 installation.

This article may contain affiliate links. Click here for more details.