Facebook for Android Now Native, Twice As Fast
Facebook today released a new version of its Android app, Facebook for Android 2.0. While the new app doesn't have a drastic design change, it is faster than before.
Facebook's new Android app is the company's first fully native app for Android. Previously Facebook for Android used a mixture or native code and a webview, which, for a website as complex as Facebook, resulted in a slow app that would lock up on users on a regular basis. The new app should fix many of those issues.
The only design change to Facebook for Android is the new banner for new stories. Now whenever the user is browsing their feed or a Timeline, a small banner will appear at the top of the page to alert them of any new updates posted. Tapping on the banner will bring the user back up to those new updates. It's a useful feature for those who always want to know the latest information posted to Facebook.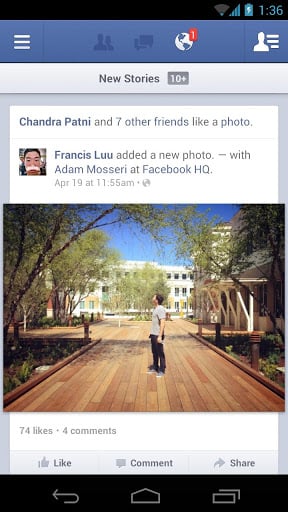 Facebook also made photo viewing a lot faster in the new app. The blog post about the new app goes into a lot of technical details that only developers will understand. For end users, the refinement means photos will load faster and won't cause the rest of the Facebook app to freeze for any reason.
By moving to native code, Facebook also made it easier for it to update the app with new features in the future. That means any major new Facebook developments will reach Android phones faster than they did before. That doesn't mean Facebook users will like any of the changes, but they will at least be consistent.
Facebook also recently moved its iPhone and iPad to native code, which greatly improved its performance. Facebook's apps aren't perfect, but now they don't break nearly as often. At least they shouldn't.