Facebook for Android Update Brings it Up to Speed
We knew that an update for Facebook's Android application was on the way and sure enough, the company has delivered announcing a new and improved Android Facebook app complete with a new, faster user interface along with several new features that should bring it up to speed, at least looks-wise, with Facebook's iOS application. At the very least, it's a vast improvement over what was available before.
Facebook claims that the new Android application features photos and albums that are now two times faster then the previous version of the application, certainly a welcomed addition, and that it's now a whole lot easier to share and edit photos and view comments on them.
Messages and notifications have been moved to the top of the screen which means you can respond to messages and more without having to switch screens.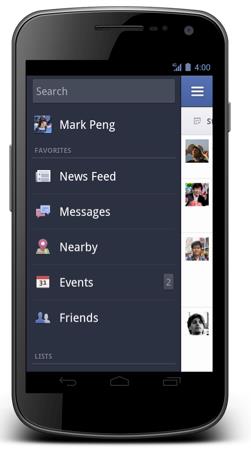 The update also brings the menu bar to the left side of the app, something that Facebook  introduced in the iOS app overhaul. It includes quick access to things like your News Feed, Messages, Events, and more.
We haven't been able to get the update quite yet but Facebook says it will be available soon and when it is, you'll be able to find it here.

As an Amazon Associate I earn from qualifying purchases.