Facebook Home & Facebook Phone Leak Allegedly Shows All
A new collection of photos from 9To5Google show the UI of the rumored HTC First, also known as the "Facebook Phone."
The new photos show what Facebook home may look like on the HTC First, and possible on other smartphones. They seem to show the custom app launcher, a new lockscreen with iOS-like notifications and a share pane which looks like it could come from any iteration of Android.
The app launcher and lockscreen look unique to Facebook Home, and better show the changes it makes to Android. In the image of what looks like an app launcher Facebook added a row of options at the top of the screen for sharing information to Facebook. The buttons let users write status update, share photos or check into locations without opening the Facebook app.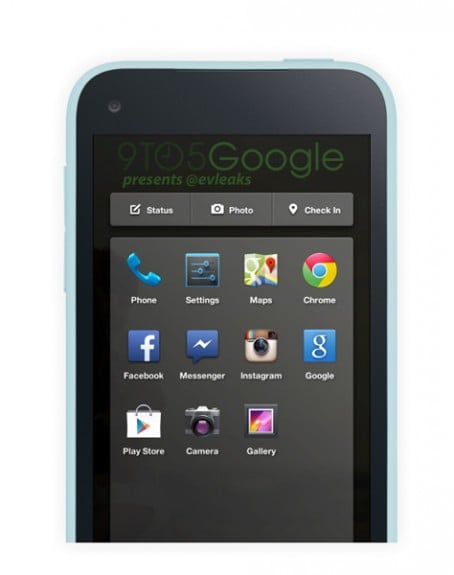 The alleged Facebook Home lockscreen shows three notifications in the center of the screen similar to how the iPhone displays notifications. The image on the lockscreen is a photo presumably taken by the user's friend. The text along the top includes the people tagged in the photo and the caption as it would appear in the Facebook app.
The bottom of the screen shows a man's face inside a circle. Presumably the circle will unlocked the phone when it's moved. The circle looks similar to an icon attributed to "Chat Heads" in an earlier leak of Facebook Home.
The images all show what could be Facebook Home running on a phone that looks similar to the leaked HTC First. There's a chance Facebook Home will work on other Android smartphones, however. Recent leaks included hints that it will work on HTC Sense, Samsung TouchWiz (which means it may run on the Galaxy S4) and stock Android.
Facebook will likely announce Facebook Home at it's "new home on Android" event tomorrow at 1 p.m. ET, 10 a.m. PT.