Facebook Home Pre-release Leaks
Facebook Home will arrive in the Google Play Store this Friday, April 12, but a pre-release version of the Android launcher leaked for those who want to try it a few days early.
MoDaCo reports the Facebook Home leak comes from a leaked ROM for the HTC First. Home consists of three apps or APKs: one for a new version of the main Facebook app, one to replace the homescreen and app launcher as well as a separate Facebook Messenger app for Chat Heads.
Anyone can download the three APKs, though they do so at their own risk. The apps aren't ready for public use yet, and MoDaCo had trouble getting Chat Heads to work correctly. The rest seems to work fine, however.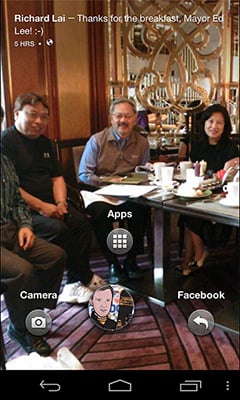 In order to install Facebook Home users need an Android smartphone with a maximum resolution of 1280×768. They also have to uninstall their existing Facebook app. That's bad news for users who have Facebook pre-installed, unless they root their phone to remove the app.
Last week Facebook said Facebook Home would only work on a small selection of devices at launch: the HTC First, HTC One, HTC One X, Samsung Galaxy S4, Samsung Galaxy S3 and Samsung Galaxy Note 2. The leaked version can work on many other phones, however. The apps will even work on the LG Nexus 4 should those users want it.
The leaks show that Facebook Home gives users the option to display the Android notification bar at all times (Facebook only ever showed the bar in third-party apps). By default users have the option to swipe down from the top of the screen to show the bar at any time.
Screenshots also show the phone adds a menu button to phones with software buttons. Hopefully that doesn't mean HTC One and One X users will have to deal with a giant black bar beneath their Cover Feed if they choose to use Facebook Home.