Facebook Integration Coming to iOS 5? (screenshots)
Apple is building a lot of Twitter into iOS 5, but what about Facebook? The larger social network may be getting some iOS 5 love if the screenshots sent into Mac Rumors prove to be legit. While these screenshots could just be a Facebook fan's doodling, a Facebook integration would make a lot of iPhone users happy.
The iOS 5 Facebook screenshots aren't exactly earth shattering. They simply display the Facebook logo, an area to add an account and contact synching. The first screenshot is similar to what the iOS 5 Twitter integration looks like.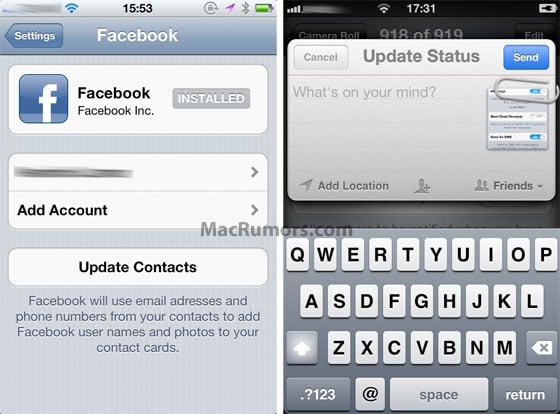 The second screenshot looks to be a status update screen launched from within iOS 5's camera roll. From the looks of it, the iOS 5 Facebook integration would allow users to share media, their statues and locations on their own walls, with friends and groups.
Facebook is one of the most popular iPhone apps, but the mobile Facebook experience on iOS is far from perfect. Facebook still doesn't have an official iPad app, relegating users to third-party apps that leave a lot to be desired. Uploading photos and videos to Facebook is a multi-step process if you shoot with the iPhone's built-in camera app. Third-party apps such as Camera+ make it easier to share to Facebook, but it's a no-brainer to build this feature into iOS 5 if Facebook and Apple can play nice together.
There is a chance that we'll see an official iPad app from Facebook in the very near future if a rumor that popped up today is true. Mashable is reporting that the Facebook app for iPad will be unveiled at the iPhone 5 launch event, which will probably be at Apple's headquarters in Cupertino.
iOS 5 was announced a few months ago and will most likely be launching within two weeks.  You can read more about what to expect in iOS 5 in this article (click here).
The iPhone 5 may be announced on October 4, which is just a week away.  Our best guess for when the iPhone 5 will actually be going on sale is October 15. The iPhone 5 is the year's most anticipated phone and there is unprecedented demand for the device, partly because it's been 15 months since the iPhone 4 was introduced.
You can read more about the iPhone 5 and iOS 5 in our iPhone 5 rumor roundup.
Facebook integration into iOS 5 might not be the most technical or geeky news around the iPhone 5 launch, but it's something that would definitely be used by the masses, perhaps more so than Twitter.

As an Amazon Associate I earn from qualifying purchases.