Facebook Messenger Tests Free Voice Calls
Today Facebook released a new update to its Facebook Messenger app that lets users in Canada call their friends for free.
The new Facebook Messenger includes the ability for all users to send quick voice recordings to friends and family on Facebook. Canadian Facebook users with iOS devices can take the feature a step further, however, and make free phone calls to their friends and family on Facebook over Wi-Fi or a data connection.
To make a call both users will have to have the latest version of Facebook Messenger installed on an iOS device. The feature isn't yet supported on Android devices. To start a call users tap the "i" icon on the top right of the screen and select "Free Call" from the menu.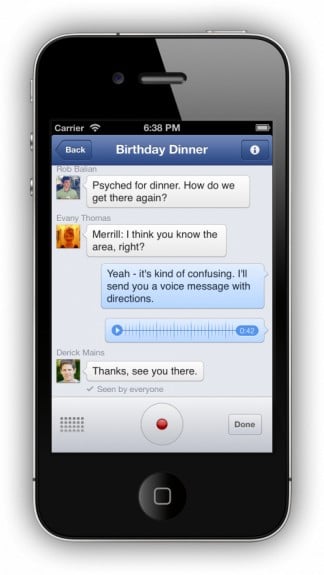 Like Skype and other VoIP calling services all calls to other users of the service are free. That makes it easy for users to avoid using their voice minutes on phone calls to friends and family member. The feature is also useful for users who have poor cell phone signal at their home, but have access to a Wi-Fi network.
The voice recording feature is available to users on both iOS and Android across the globe with the new Facebook Messenger update. It's not clear if the recording will play in a desktop browser, but it seems likely.
Like all Facebook experiments if the free voice calling feature is a success among Canadian iOS users there's a chance the social network will bring the feature to more of its billion users across the world. For now, however, it's only available to a limited selection of users.
There are other services that offer free voice calls over Wi-Fi and data connections, but none have the ubiquity of Facebook. With about one billion users there's little need for users to convince their friends and family to sign up for the free voice calls, because they're probably already using Facebook.

As an Amazon Associate I earn from qualifying purchases.