Facebook Reportedly Planning Home Screen Invasion, Not Facebook Phone
Next week Facebook will show off it's "new home on Android," but the Wall Street Journal claims the event is more about about a new app and not a full-fledged Android phone.
Facebook's event, according to the Wall Street Journal will focus on a new app which will put Facebook status updates on the home screen of Android devices. Presumably that means Facebook will try to place the News Feed on the homescreen of Android devices.
Facebook will likely first show off the feature using HTC devices, though other manufacturers can include the software in their own phones as well. The new feature will require some tweaking of Android to let Facebook take over the home screen, according to the paper's sources.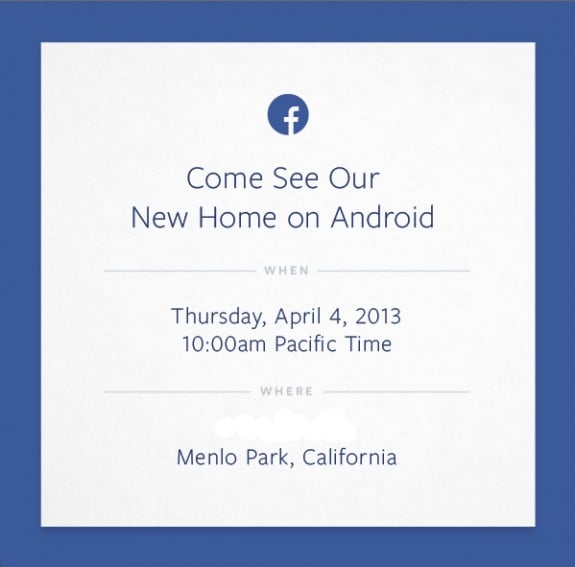 The goal of the new feature is to make Facebook users spend more time on the service without launching an app. Theoretically that would mean more mobile usage and increased ad revenue for Facebook. For users it means checking their friend's update more easily.
The update could tie in with a rumored new push of Facebook as a lifestyle brand and not just a social network as 9To5Google reports.
Facebook's new app could also explain why the company tried to convince its employees to switch to Android devices. The new feature allegedly doesn't replace Android, it just augments it to make it more Facebook friendly. It's much different from Amazon's plan of spinning off Android to fit its needs.
The update sounds very much like a new Facebook widget, albeit a widget that users likely can't resize or move. Many Android phones already have widgets that let users view Facebook News Feed content from their homescreen. The network's rumored partner HTC even has BlinkFeed on its new HTC One which lets users view status updates from the homescreen already.
The new Facebook home screen for Android may appeal to some die-hard users, assuming it doesn't crash as often as the social network's apps do.

As an Amazon Associate I earn from qualifying purchases.