Fallout 4 DLC: 5 Things to Know Now
New Fallout 4 DLC is confirmed for Xbox One, PS4 and PC including Nuka World and two new Workshops that add new items and more.
Fallout 4 is a huge game with tons of places to visit, enemies to conquer, items to pick up, settlements to build, quests to complete, and characters to meet.
You won't be able to see and do everything in 100 hours and there's a good chance you won't be able to do it in 400 hours either. It's that deep.
The scary thing is that Fallout 4's gameplay has only gotten deeper thanks to the arrival of official mods and DLC.
Bethesda recently released three Fallout 4 add-ons. The company is also planning to release more Fallout 4 DLC later this year.
Today we want to take an updated look at the current state of Fallout 4 DLC and what you need to know about the future which includes at least three more pieces of Fallout 4 DLC.
Automatron, Wasteland Workshop & Far Harbor
Let's start with what's out there.
Earlier this year, Bethesda confirmed an initial offering of Fallout 4 DLC. The offering includes three add-ons: Automatron, Wasteland Workshop, and Far Harbor.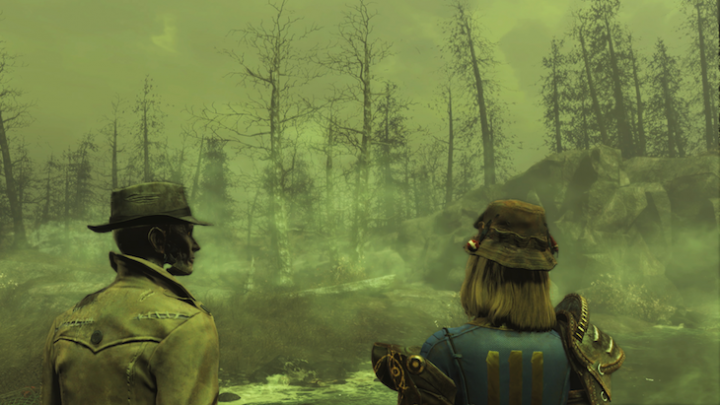 We've gone into detail about each DLC pack and thus far, Far Harbor is the clear winner. The $25 add-on delivers exciting characters and quests, brand new items and enemies, new settlements, and a whole lot more.
It's an incredible piece of downloadable content and it's highly recommended if you want to continue your adventures in Fallout 4.
Nuka World DLC
Automatron, Wasteland Workshop and Far Harbor will be joined by new Fallout 4 DLC later this year. And today, Bethesda confirmed the next three expansions.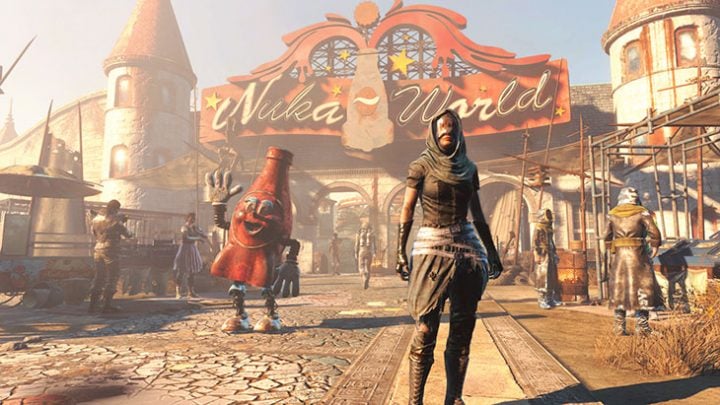 The first is Nuka World, a piece of DLC that emerged in game files earlier this year. The Nuka World release date is confirmed for August though the company didn't confirm a specific release date for Xbox One, PS4, or PC.
The teaser hints at some sort of amusement park and we expect it to be the biggest of the three upcoming Fallout 4 DLC packs. Here's how Bethesda describes it:
Take a trip to Nuka-World, a vast amusement park now a lawless city of Raiders. Explore an all-new region with an open wasteland and park zones like Safari Adventure, Dry Rock Gulch, Kiddie Kingdom and the Galactic Zone. Nuka-World features new quests, Raiders, weapons, creatures and more. Enjoy the ride!
Nuka World will cost $20 putting it between Automatron and Far Harbor and closer to Far Harbor's $25 price point.
Fallout 4 Contraptions Workshop DLC
The rumors were true.
In addition to Nuka World, Bethesda is poised to release two new Workshop bundles.
The first new pack is called Fallout 4 Contraptions and it will bring elevators, machines, conveyor belts, race kits, weapon racks, and more.
The Fallout 4 Contraptions release date is confirmed for June 21st for all three platforms (Xbox One, PS4 and PC). A beta will arrive sometime before then.
Like the Wasteland Workshop, the Contraptions Workshop will cost $5, much less than Automatron, Far Harbor, and Nuka World.
One other note. There's now a file called Fallout 4 – DLC04 (480630). It's a 252.74 MB file (for the PC) making it much smaller than Automatron and Far Harbor and a little bit larger than Wasteland Workshop.
We assume this is the Fallout 4 Contraptions Workshop.
Fallout 4 Vault-Tec Workshop DLC
The other Workshop pack is called Fallout 4 Vault-Tec Workshop.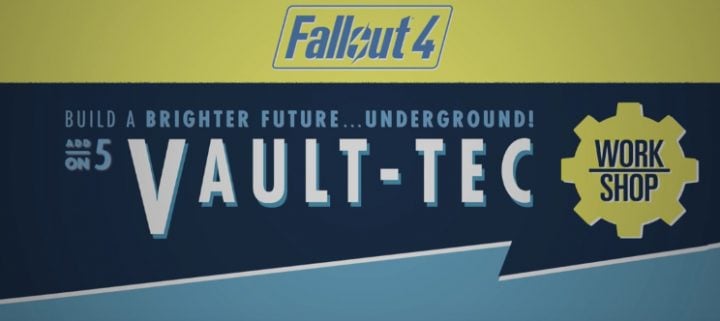 This workshop pack will allow you to build your own Vaults and even perform tests on the subjects housed within. Here's how Bethesda lays it out:
Build a brighter future underground with the all-new Vault-Tec Workshop. Create a massive Vault and attract new Dwellers using pre-war industrial kits complete with retro-nostalgic furniture, lighting, and art. Even change and customize the look of your inhabitants with new barbershops and cosmetic surgery stations. And like every good Overseer, run Vault-Tec approved experiments on your Dwellers to learn what makes an ideal citizen. Vault-Tec has given you the tools, the rest is up to you!
Fallout 4 Vault-Tec Workshop will be released in July at the same $5 price point as Wasteland and Contraptions.
We expect to hear more about it in the weeks ahead.
Fallout 4 Season Pass & DLC Deals
The Fallout 4 Season Pass isn't going anywhere.
Bethesda and its partners are still offering a $60 Fallout 4 Season Pass for all three platforms (Steam, PS4 and Xbox One). The Season Pass will net you all three of these expansions plus any content the company decides to release in the future.

It's worth noting that If you don't want to pay full price for the Fallout 4 Season Pass you don't have to pay full price for it. We've seen Fallout 4 Season Pass deals take the price down from its $60 perch.
One of the best deals out right now is from Green Man Gaming. The retailer is offering 20% off the Fallout 4 Season Pass.
If you don't want to buy the Season Pass, you can also buy all of these add-ons individually. Automatron is $10 on its own, Wasteland Workshop is $5, and Far Harbor is $25.
If you want to save on these, Green Man Gaming is offering deals on all three. We haven't seen any price cuts at retailers like Amazon and GameStop.
Fallout 4 DLC Beta
If you weren't selected for the Automatron beta, Wasteland Workshop beta or Far Harbor beta, don't get down.
Bethesda will run betas for all of its upcoming Fallout 4 DLC and it will likely choose more names out of the hat.
If you failed to signup for Bethesda's Fallout 4 DLC beta, you'll want to do that before the first beta arrives.
You can sign up right now on Bethesda.net. All you need is a registered account. From there, Bethesda will select applicants to test out the full versions of the upcoming DLC.
If you're selected you'll receive the full version of the DLC and you'll be able to keep it once the beta ends as payment for your services.
11 Things to Know About the Fallout 4 Vault-Tec Workshop DLC
Fallout 4 Vault-Tec Workshop Problems & Update
The Vault-Tec Workshop DLC is getting solid reviews but those playing the new content have run into problems.
While the Vault-Tec Workshop beta wiped out many of the problems plaguing the new DLC, issues slipped through the cracks.
Some gamers are simply having problems downloading the Vault-Tec Workshop DLC. If you own it and you can't get it to work, close Fallout 4 and re-open it. We also recommend a hard reset of your system.
We're also hearing about the usual array of texture problems, performance issues, random crashes, and various other bugs impacting the DLC and its features.
Bethesda's outlined a few solutions for Vault-Tec Workshop problems and the company's rolled out a brand new Vault-Tec Workshop update to address lingering bugs.
The update is now available for Xbox One, PC and the PlayStation 4. It's 400MB+ in size and it brings several key fixes to the table.
The update keeps the game at its current version. Here is the full list of fixes available for Xbox One, PC and PlayStation 4:
- Vault Exterior Door no longer has a missing texture if Wasteland Workshop is not installed
- NPCs will no longer incorrectly sit at the Vault Security Desk
- Vault-Tec Water Pump and starting generator now auto repair when entering workshop mode
- Player can no longer assign companions or Overseer Barstow using the population management system to prevent this from breaking them
- Vault-Tec population management system will no longer say jobs are available when is no one valid for job assignment available
- Vault Experiments can be scrapped in workshop mode
- Fixed issue with Overseer Barstow's audio cutting out after Clem's interview
- Interviewing the second settler candidate will not reset after the dialogue option take a break
If you are using an Xbox One or PC, the update will install automatically when you log online. If you're using Vault-Tec on a PS4, here's how to get the update.
This update wipes out many Vault-Tec Workshop issues but it doesn't tackle them all. While we wait for the next major Fallout 4 bug fix update for PS4, Xbox One and PC, please take a look at our list of fixes for common Fallout 4 problems and Bethesda's support forums for assistance.
You'll also want to report any bugs you see as you play the DLC. To do that, head here to submit a Vault-Tec Workshop bug via Bethesda's website.

As an Amazon Associate I earn from qualifying purchases.