Fallout 4 Mighty Bundle: 5 Things to Know
The Fallout 4 Pip Boy Edition is sold out but it appears that buyers will be able to take advantage of another Fallout 4 bundle ahead of the game's release. A Fallout 4 Mighty Bundle release is confirmed and today we take a look at what you need to know about it right now.
In June, Bethesda took the stage at E3 2015 to announce a brand new version of Fallout dubbed Fallout 4. Fallout 4 is the true successor to 2008's Fallout 3 and it's Bethesda Softworks' first big release since Elder Scrolls Skyrim back in 2011.
At E3, Todd Howard and Bethesda revealed a number of key details including gameplay, the game's November 10th release date, and a collectors edition bundle called Fallout 4 Pip Boy Edition. In the weeks since that announcement, we've seen tons of new Fallout 4 details emerge including a Pip Boy Edition sell out.
The Fallout 4 Pip Boy Edition is Bethesda's most popular bundle. It comes with a number of items including a real-life Pip Boy that works in conjunction with a smartphone. Owners will be able to download an application, stick the phone into the Pip Boy, and interact with Fallout 4. It's a very interesting product but it's one that's difficult to find.
Fallout 4 Pip Boy Edition isn't coming back but there are a few other bundles that Fallout 4 buyers can take advantage of. One is Microsoft's Fallout 4 bundle that includes a copy of Fallout 3. And today, a retailer has begun to offer a special version of Fallout 4 called Fallout 4 Mighty Bundle.
The Fallout 4 Mighty Bundle is real, not rumored, and today we want to take a look at everything we know so far about this brand new, and tempting, version of Fallout 4.
Fallout 4 Mighty Bundle
Fallout 4 Mighty Bundle is the latest Fallout 4 release detail and it's going to be a tempting offer for many ahead of the game's November release date. While it doesn't come with a Pip Boy, it does come with a few items that will be of interest to those who love the world of Fallout.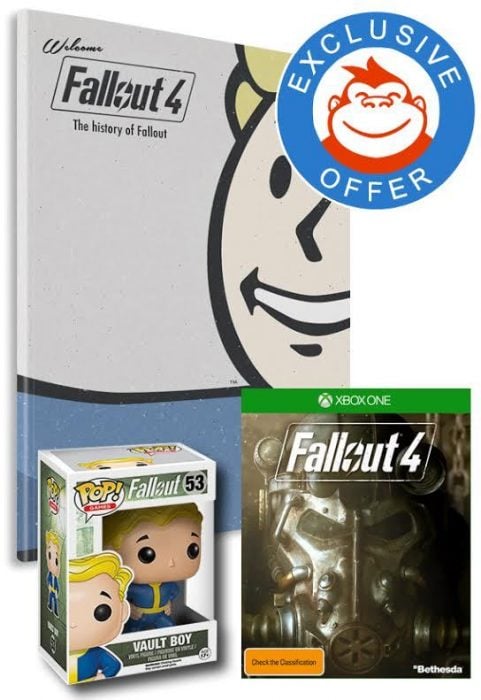 In addition to a copy of Fallout 4, the Fallout 4 Mighty Bundle comes with a Fallout 4 Franchise Book and a Fallout 4 Vault Boy Pop! Vinyl figure. The book is an extremely interesting addition as it's an "80 page hardcover coffee table style book detailing in words and hi-res imagery the history of Fallout over the years."
It would look great on a shelf, bed stand or on a coffee table. These are the Mighty Bundle's three components and we don't expect that to change.
Fallout 4 Mighty Bundle for PS4, Xbox One & PC
The Fallout 4 Mighty Bundle is available for PC, Xbox One and PS4. No exclusives here. There also don't appear to be any differences except for the price.
Fallout 4 Mighty Bundle Release Date
The Fallout 4 Mighty Bundle release date is November 10th, the same day that Bethesda will release Fallout 4 and the Fallout 4 Pip Boy Edition. The Mighty Bundle release date is the same for PS4, Xbox One and PC.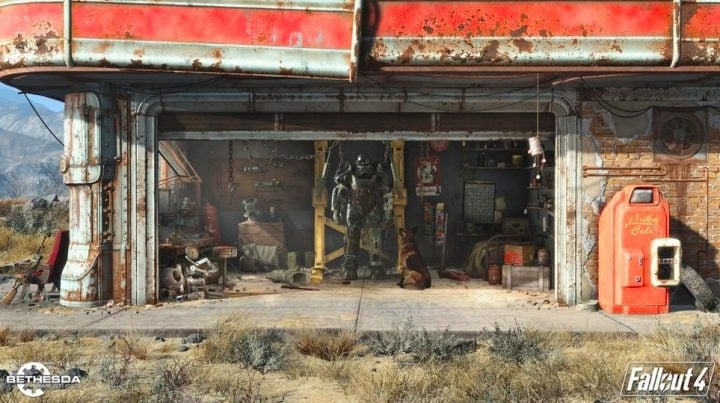 It's not clear how much stock this lone retailer will have so it's entirely possible that it will sell out before then. If you're at all interested you'll want to keep an eye on stock as we push deeper into the summer.
Fallout 4 Mighty Bundle is Limited
As of right now, the Fallout 4 Mighty Bundle is limited to one retailer in one part of the world. The Mighty Bundle comes from New Zealand retailer Mighty Ape and it's not clear if the bundle will ever made it out of that part of the world.
The retailer claims that the Fallout 4 Mighty Bundle is an "exclusive offer" which means that it might remain limited to the one region and the one retailer. The "Mighty" bundle name will likely stay exclusive to Mighty Ape but we could, perhaps, see this same bundle pop up under a different name somewhere else.
This certainly opens up the door for other Fallout 4 bundles ahead of the Fallout 4 release date. We wouldn't be surprised if other retailers, or even Bethesda itself, offered something new in the buildup to November 10th. Just don't expect the Pip Boy Edition to return.
Fallout 4 Mighty Bundle Price
The Fallout 4 Mighty Bundle price is, as expected, more expensive than the regular version of the game.
Mighty Ape is charging $99 NZ for the PC version of the Fallout 4 Mighty Bundle. However, it's charging $119 NZ for the Xbox One and PlayStation 4 versions. The former translates to $65 USD while the latter is about $78 USD.
Bethesda and its retailer partners are charging $60 for Fallout 4 while the Fallout 4 Pip Boy Edition commands a $120 price tag. The Pip Boy Edition is far more expensive through retailers.
PS4 Fallout 4 Release: 7 Important Details
PS4 Fallout 4 Deals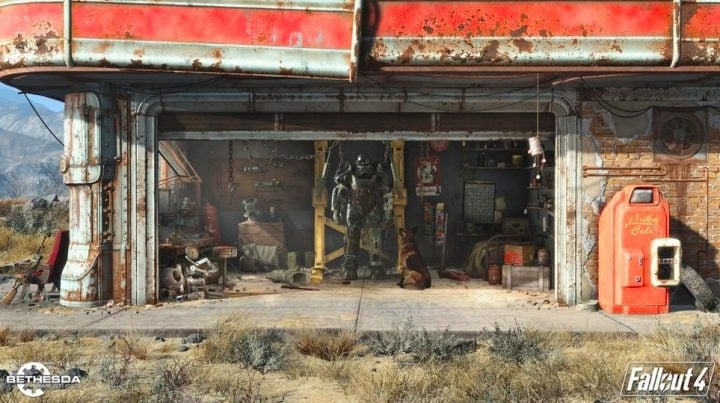 As we approach the PS4 Fallout 4 release date in November, we're starting to see new Fallout 4 deals emerge for those looking to buy ahead of time. While some of these deals are small, others knock quite a bit off the price tag.
Best Buy is now offering $10 in rewards to My Best Buy members. This is in addition to the price cut that will be offering to those who are part of its Gamers Club Unlocked program. The $10 in rewards doesn't shave money off the PS4 Fallout 4 price tag ($60) but it could help you put some money towards a strategy guide or perhaps, another game.
We've also spotted a deal for those in the United Kingdom looking to buy on the PS4. The Game Collection is offering a nice deal on Fallout 4. It's a timed deal but it knocks a bit off the pre-order price of the game. It's worth investigating if you're interested.
The important thing to note is that we continue to see retailers offer incentives to those thinking about buying the game. This isn't the last we've seen of PS4 Fallout 4 deals either. We expect to see more between now and November as retailers jockey for position.

As an Amazon Associate I earn from qualifying purchases.