Fallout 4: 10 Things to Know Before You Pre-Order
The Fallout 4 release date is getting closer but November 10th is still several weeks away. We know a ton of people are struggling with the decision about whether to pre-order now or wait for the game's release and today we want to take a look at some things you should know before you put in a Fallout 4 pre-order for Xbox One, PS4 or PC.
In June, Bethesda confirmed plans to release a new installment in the long-running Fallout series. The game is called Fallout 4 and it will be the true successor to Fallout 3, the critically acclaimed open-world RPG that arrived for PC and console all the way back in 2008.
The Fallout 4 release date is confirmed for November 10th on Xbox One, PS4 and PC. And while Bethesda confirmed many of the important details in June at E3, we've seen a number of new details emerge this summer as the company tries to sell consumers on its latest title.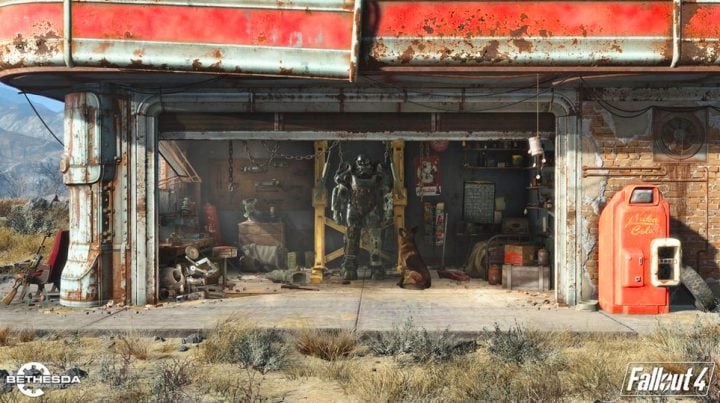 The game has been up for pre-order for several months now. Hardcore fans of the Fallout series have almost certainly put in their orders ahead of time but we've spoken to several people who are still on the fence about a Fallout 4 pre-order ahead of its release date.
With those people in mind, today we want to take a look at a few of the most important things prospective buyers need to know before committing to a pre-order on PS4, Xbox One or PC.
It Will Eat Up a Ton of Time
The first thing you'll want to consider is how much time you're going to have to play the game.
Since launch, we've learned that the game is going to feature hundreds and hundreds of hours of content. One Bethesda employee says that he's played the game for 400+ hours and he still hasn't seen everything. This will appeal to a ton of people but it might not appeal to the person who doesn't have a lot of time during the week to play a game.
If you're looking for a game that you can just pick up and enjoy for a few hours before setting it back down for a week or two, this might not be the game for you.
There won't be a playable demo of Fallout 4 for any system and you probably won't see reviews pop up until we're much closer to the Fallout 4 release date. So if you're on the fence about a massive open-world RPG that's going to take a fairly big commitment to fully enjoy, you might want to wait for the release date or for the price to drop so that you don't waste $60 on a game you'll never play.
You Don't Have to Pay Full Price
If you don't want to pay full price for a copy of Fallout 4, you don't have to. We haven't seen any massive price cuts in the buildup to the game's release but we've seen some retailers knock some money off the standard version of the game.
Best Buy is offering the game for $48 to those who are part of the Gamers Club Unlocked program. That's one of the best deals around. Amazon is also offering a $7 discount to those in the Amazon Prime program. These deals are static and they probably won't be going anywhere ahead of release. You have some time to mull them over.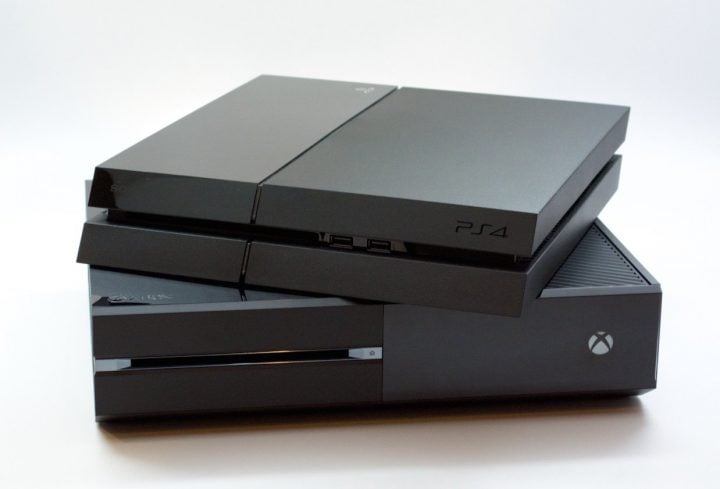 We've also seen other retailers like Green Man Gaming knock the price of the PC version of the game down to below $50 ahead of release. And with several months to go before the game's release, we'll almost certainly see Green Man Gaming, Dell or someone else offer a Fallout 4 price cut that allows you to snag it for less than $60.
The best Fallout 4 deals probably won't come until after the Fallout 4 release so if you're looking to buy it for $40 or below, you're probably going to want to skip a pre-order.
There Are Bundles & Other Deals
If you live in New Zealand or the United Kingdom, know that there are a few bundles that you can take advantage of. These bundles pack in some interesting accessories that might be worth the extra money for fans of the series. Research these bundles before you buy the regular version of the game.
Microsoft is also offering a limited edition Fallout 4 bundle that includes a copy of Fallout 3. The game is for Xbox 360 but you'll be able to play it on Xbox One thanks to the system's backwards compatibility feature.
There are also some Fallout 4 deals worth knowing about. These aren't price cuts but they're added pre-order bonuses that sweeten an early commitment.
Two that come to mind are Microsoft's pre-order that tacks on $10 of spending money for the Microsoft Store and Best Buy's deal for My Best Buy members that offers $10 in Best Buy rewards.
Fallout 4 Pip Boy Edition
There is also another version of Fallout 4 that's worth knowing about before you pre-order another bundle or a regular copy of the game. The bundle is called Fallout 4 Pip Boy Edition and it's extremely rare.
The Fallout 4 Pip Boy Edition comes with a real-life Pip Boy. If you don't know what a Pip Boy is, it's a gadget that the main character wears around his wrist and it allows him/her to access important things like the radio, quests, inventory, and more. Bethesda's Pip Boy, when used with a smartphone, will allow Fallout 4 players to interact with their in-game character.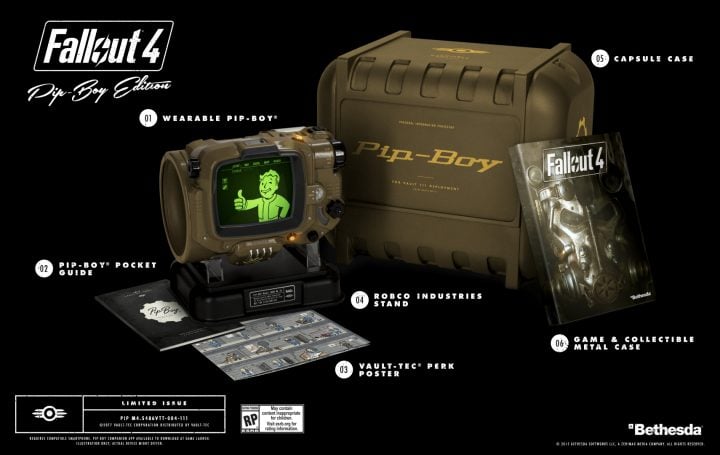 Unfortunately, retailers in the United States are completely sold out and Bethesda isn't making any more. There are still ways to acquire the Fallout 4 Pip Boy Edition but you probably won't be able to find it for $120 ahead of the Fallout 4 release date.
You can, however, enter Bethesda's Fallout 4 contest for a chance to win one for free. That's something worth looking into if you don't want to spend a ton of cash on a pre-order.
Fallout 4 Strategy Guides
If you're new to the Fallout series and open-world RPGs and know you're going to need some help, you might want to look into buying a strategy guide.
Your options include the regular edition, a collectors edition or an EGuide version that comes with a unique interactive map. All three are going to be extremely helpful with the crafting and questing elements of the game and they'll also help you keep tabs on the plot and the characters.
Before you buy though, note that you should also be able to find Fallout 4 tutorials and walkthroughs online for free. Keep that in mind before you shell out $10 or $20 for the official strategy guide pre-orders ahead of the game's release date.
We Don't Know the PC Requirements Yet
If you're looking to buy the game on PC, know that we won't get the game's requirements until we're about a month out from the release. Bethesda has confirmed this to be the case and we don't see it budging.
What this means is that those of you with an old rig might want to wait to pre-order. That is unless you're planning to upgrade your PC sometime before or after the November 10th release date.
Fallout 4 is a huge game and it probably won't run on an eMachines computer from 2005. If you haven't updated your PC in awhile, you might want to take a rain check for the time being.
Fallout 4 Mods
If you own more than just one platform, you'll want to know that modding for the Xbox One and PS4 will come after mod support arrives for the PC in early 2016.
Bethesda is focused on finishing the game and it hasn't turned its full attention to the Fallout 4 modding platform that it announced back at E3. But here's what we know right now.
We know that modding will come to the PC first, then the Xbox One, and then sometime after that, the PlayStation 4. Bethesda hasn't outlined a timeline but this is important to note if you're trying to decide between PC, Xbox One and a PS4 version of the game and you're going to be heavily invested in the modding community.
There Will Be Fallout 4 Problems
If you're not the type of person that likes to deal with video game problems, you might want to hold off on a Fallout 4 pre-order. Bethesda's already admitted that there will be problems with the game at launch though the company says that it's working hard to fix as many as it can ahead of time.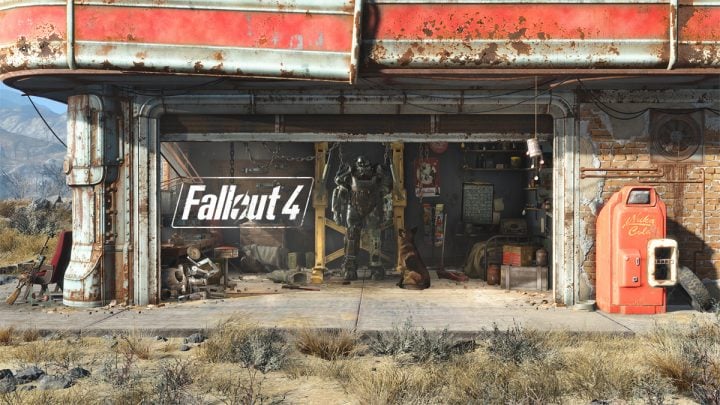 Fallout 4 is a huge, complex game and huge complex games always have some hiccups. Some of these hiccups will be cured within a few weeks of the game's release, some could be sitting around for several months. It will take months for Fallout 4 to stabilize and if you can't handle that, you might be better off waiting until after the game's release to play it.
Digital vs. Physical
Fallout 4 is being offered in both physical and digital form. Know that there are some differences between the two.
If you buy the physical version of Fallout 4, you'll be able to sell it and also share it with friends. That's a huge plus for those of you that tend to lose interest in games after an extended period of play.
If you buy digital, you'll cut down on the clutter in your game room, have easy access to the game via the dashboard, and you'll also be able to pre-load the game so that you can play it right away at midnight on November 10th.
Pick the Right Place to Pre-Order
And finally, you'll want to pick the right place to pre-order. For instance, some places will charge you for the game right now. Others won't charge you for a copy of Fallout 4 until it ships. If money is tight, you'll want to go through a retailer like Amazon. It won't charge you right now.
Fallout 4 Release for PS4, Xbox One & PC: 7 New Details
New PC Fallout 4 Release Details
Let's start off with some fairly new and very important details regarding the PC Fallout 4 release.
First, those of you who have already bought the physical version of Fallout 4 for PC will want to know that you'll be able to activate the game through Steam. This probably doesn't come as much of a surprise given that Skyrim worked the same way.
And second, know that Bethesda probably won't release the PC requirements for Fallout 4 until much later in the year.
Bethesda's Pete Hines says that it probably won't make them public until we're about a month out from the game's November 10th release date. In other words, you should be on the look out in early October.
Fallout 4 is a massive game and there's a good chance that it will require an impressive set of specifications to run at the highest levels. Unfortunately, we may not know the specific details for a few more weeks.

As an Amazon Associate I earn from qualifying purchases.