Father's Day Gifts: 10 Gadgets Dad Will Love
Instead of ties, socks or sweaters for Father's Day this year, consider getting Dad a gift that will really make him smile.
Here's a list of Father's Day gifts we'd want to receive instead, including accessories for phones or tablets, a couple of tablets and even some ideas for getting dad exactly what he wants.
Bluetooth OBD Scan Tool for Vehicles
Over at Motor Review, Chad Kirchner recommends the Vgate ELM327 Bluetooth ODB-II Scan Tool as an inexpensive Father's Day gift for dads who want to find out why their check engine light came, using an Android smartphone. It uses Bluetooth to pair with the phone and sends information to the Torque app (free trial version; $4.95 for Pro version) on Android phones.
Let Dad Pick Out a Phone
Take Dad over to the local AT&T, Verizon, T-Mobile or Sprint store and let him upgrade his phone. He can pick exactly what he wants.
Here are some of our recommendations for the best phones:
Gift Cards or Certificates
Gift cards or gift certificates let anyone pick their own gift. A tech-loving father is likely be picky about his gadgets. Choose an amount and find him a gift card or gift certificate to match. I tend to prefer Amazon cards or certificates because I'm an Amazon Prime member, and they have almost everything at a good price. They can be found online, in many grocery stores or at drug stores. You can also consider getting a card for many stores, restaurants and more right from Amazon.
Many local stores sell gift cards. They often charge a few dollars more than the face value of the card, but some banks let people get them without this fee, so check with yours.
Qi Wireless Charging Kit for Smartphones
Qi Wireless charging lets a user charge their phone without a cable. The technology sends enough electricity to the phone when it rests on a Qi Wireless charging pad or dock.
Some phones come with Qi Wireless Charging built-in, but most don't. Recent Samsung Galaxy Android phones or HTC One Android phones have this built in. Fortunately, it's easy to add. Below is the universal charger I installed on my HTC One M8, or you can get one we recommended last year for Samsung's Galaxy phones.
Find the phone model and do a search online to see if it comes with wireless charging built-in. If it does, then all you need is a charging pad or dock, like our two favorites from TYLT and RAVPower. Get the TYLT for a desktop or nightstand and the RAVPower for a more mobile solution.
To add Qi wireless to an iPhone, get the kit at Amazon from CHOETECH for $40. For Android, get the Universal Qi Wireless Charging Receiver (starts at $11) and one of the above charging stations.
iPad mini with Retina Display or iPad Air
Thanks to hardware design, app quality and a larger number of available accessories, we seldom recommend another tablet other than the iPad. So why the iPad mini with Retina Display over the iPad Air? And should someone really buy one now with Apple launching one this fall?
The iPad mini costs less than the Air and fits a more portable lifestyle. The Air is $100 more. For more in-depth advice on which iPad size to go with, see our post on which iPad to buy.
Kindle Fire HDX or Paperwhite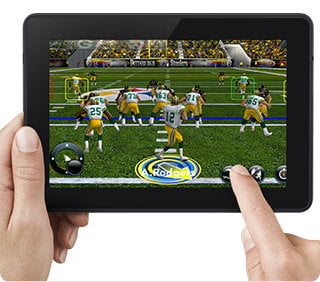 An alternative to an iPad is a Kindle. The Kindle Fire HDX offers a full-blown touchscreen tablet that runs Android while the Paperwhite is just an eBook reader. The Fire goes great with the new Amazon Fire TV set-top streaming video box (see below).
Don't get the regular Kindle Fire. It's not as powerful and won't work with a Fire TV, if that's important. The Fire HDX comes in two sizes – 7-inches ($199 on sale) and 8.9-inches ($339 on sale) size. See our review for more details.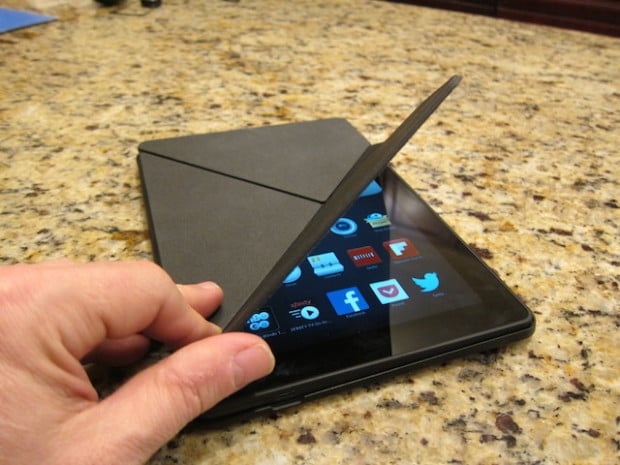 While a little pricey, the Amazon branded Origami cases for the Fire HDX tablets are very nice. The 8.9-inch version costs $56 while the 7-inch case costs $52.
If all that's more than dad needs, get him a Kindle Paperwhite, the best eBook reader and the only one worth buying right now.
Streaming Video Devices from Amazon, Roku, Google or Apple
People interested in a streaming Internet TV set-top box, that don't already own a bunch of digital media from Apple or Google, should start their search for a streaming media set-top box with the Amazon Fire TV. It's new and doesn't offer as many options for content as the Apple TV or Roku, but it does offer a better user-interface, great content from Amazon Prime TV ($99/year as part of Amazon Prime) and we think it will catch up to the other two in terms of available apps. It also adds nice gaming options, especially for those with an Amazon Kindle HDX.
The Fire TV costs $99 with an optional $39.99 game controller that connects via Bluetooth. The box hooks up to a TV using HDMI and doesn't need line-of-sight for the remote to work. Users can enjoy extra information about movies and TV shows through the Kindle Fire HDX as a second screen device while watching, thanks to the IMDB information that pops up while watching a video.
The other options include the Apple TV or Roku. I'd only get an Apple TV if someone already owns a large collection of Apple store digital movies, TV shows and music, or if I never plan to use anything but Apple products. It's slower than the Fire TV and Roku 3 and doesn't let users add apps, channels or play games.
Don't get fooled into getting the Roku Streaming Stick. It's slow! For people who want a very inexpensive gift for someone who owns an Android phone, iPhone or iPad, the Google Chromecast for $35 or less will make a nice low-cost gift.

Outback Duffel Bag or Other WaterField Designs Case or Bag
Waterfield Designs bags and backpacks are high-quality products that last and look great protecting tech. Their new Outback Duffel Bag ($219) technically isn't a computer or tablet bag, but it will hold one, along with school books, clothes for a short trip or athletic gear.
For a more traditional computer or tablet bag, get the Staad Laptop Backpack ($319). See the review at Notebooks.com where I called it the best laptop backpack I've ever used.
booq Python slimpack Backpack for Tablet and Photography
Waterfield Designs makes great bags, but for the photography enthusiast, the booq Python slimpack ($145 direct) will bring a smile on Father's Day. It holds one or two DSLR cameras, a few small to medium length lenses and a tripod outside the compartment as seen above. In addition Dad can tote along an iPad.
The Python slimline pack also helps protect expensive gear with lockable zippers and waterproof ballistic nylon. Their Terralinq Lost and Found service lets the user register the bag and, if found, the finder gets a reward and the owner gets their stuff back.
Chromebook or Chromebox
Not everyone should get a Chromebook, but for a certain segment of the population it's the best option. A Chromebook's great for fathers who:
Already own a Mac or PC, but could use a simple second computer for basic tasks
Spend most of their time on the Internet
Don't need to create complicated documents, spreadsheets or edit digital media
An inexpensive Chromebook might be perfect for a second computer to take everywhere. Chromebooks save users lots of money as the best options only cost $200-$300.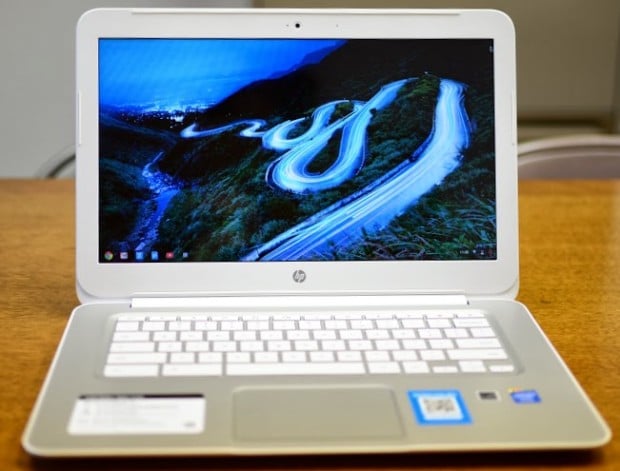 Of the best Chromebooks, the HP Chromebook 14 comes in two versions. One with T-Mobile access built-in and 200MB of free data per month for life. It also gives the user 4GB of RAM instead of the standard 2GB that most Chromebooks offer. The extra RAM speeds things up when using a bunch of open tabs and apps. They cost about $300-$400, depending on where a person shops.
The best 11-inch Chromebooks include the Acer C720, which costs only $200, or $300 with a touchscreen (the C720p). We also just got the Dell Chromebook 11 in for review. It's very nice too, but costs a little more at $279.99 or $299.99 with 4GB of RAM.
For a simple second desktop, get the ASUS Chromebox.
BOSE QuietComfort Headphones
BOSE makes some of the best sounding headphones and speakers around. Here Xavier Lanier reviews his BOSE QuietComfort headphones.
BOSE make a few high-end including in-ear earbuds and around-ear headphones.
They offer noise cancelling and in-line controls on the cables. The in-ear version comes with tips that BOSE designed to stay put and are molded to hug the shape of the ear. They cost $279.95.
The around-ear version comes with a soft cushion to make them comfortable. The audio cable detaches and an extra cable also has in-line controls. These range in price from $299.95 to $399.95.
Check the comparison table to learn which model works best.