FAVI Bluetooth Tablet Keyboard: Better as a Presenter's Keyboard
The FAVI Bluetooth Tablet Keyboard is a versatile presentation tool and mobile keyboard for limited typing needs. FAVI Entertainment advertises it as an Android tablet keyboard, but it works with other devices just as well. And while it shines as a presentation tool, it falls short for typing medium to longer projects.
Connect it via Bluetooth and charge over USB. This tiny palm-sized keyboard offers a great option for the power-presenter who wants to use a laptop or a tablet for making presentation or do very limited amounts of typing with physical keys.
The FAVI Bluetooth Tablet Keyboard Design
FAVI Entertainment designed their keyboard for mobile use. The keyboard measures just 6.2 x 2.4 x 0.5 inches and weighs almost nothing compared to other tablet keyboards we've tested. That's a real benefit when it comes to carrying it around without a carrying case but becomes a real problem when typing more than just a few sentences.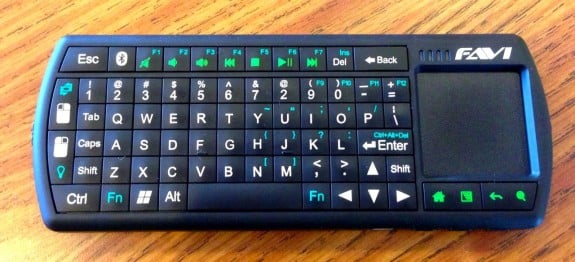 The physical keys need a firm press and touch-typing is nearly impossible thanks to the size and cramped key layout. However, the company probably didn't intend this for writers, so one can't criticize too much.
Along the right the keyboard includes a touchpad. It controls an Android phone or tablet, letting the user launch apps like they would on a laptop. The touchpad doesn't respond well. The user can't tap it to launch icons but rather uses the two mouse buttons on the left side that do right and left clicks. The company's site claims that the touchpad will do screen swipes, but it didn't work well in our tests.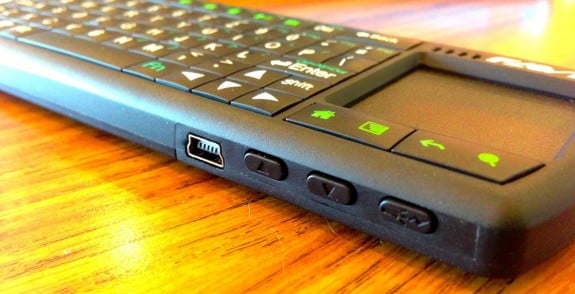 The keyboard charges via an included mini-USB to USB cable that also offers a USB pass-through. If a user's laptop only includes one USB port, the person can still plug in another USB device and share the single port.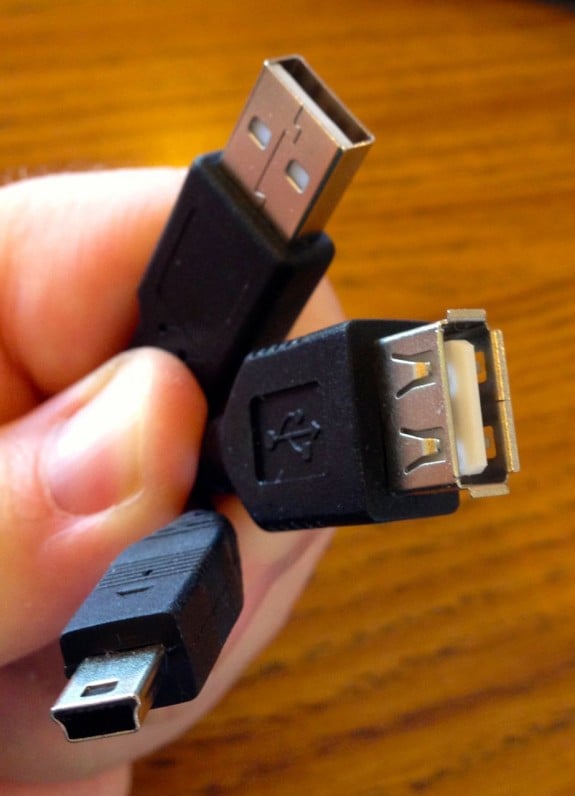 A USB Bluetooth adapter sits Inside the back battery door. If a user's computer doesn't include built-in Bluetooth just plug in the adapter and connect the keyboard. Opening the battery compartment takes more force than it should, making it really hard to access the adapter.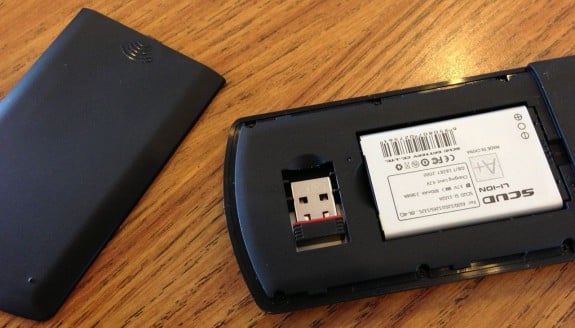 Watch the FAVI demo video for connecting the keyboard to a Nexus 7 Tablet.
A Great Presentation Tool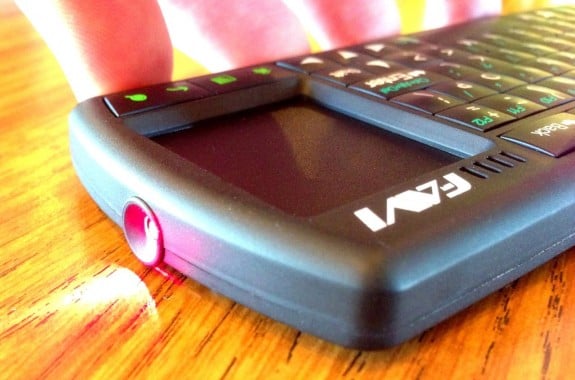 While the FAVI Bluetooth Tablet Keyboard falls short as keyboard, it really shines as a presentation tool and that's how FAVI Entertainment really should focus on marketing it, as it even comes with a laser pointer and media control buttons along the top. Many Android phones and tablets these days can hook up to a projector or TV via HDMI or VGA adapters. Instead of using a bulky laptop and a small presenter's mouse, one can use a phone, or tablet, and this powerful presentation keyboard.
The FAVI Bluetooth Tablet Keyboard offers versatility other presenter's mice don't, making it a valuable power-presenter's accessory. The keyboard offers a range of up to 50 feet, which lets the user stand at the back of the room while making a presentation. It works with any Bluetooth device, from a MacBook or a Windows laptop to an Android phone or tablet.
In a pinch, a user can hook it up to the iPad or iPhone too and use only the keyboard. Volume keys worked and media controls work once the user starts the media on the phone or tablet. The touchpad doesn't control the iPhone or iPad.
For presenters who need to turn out the lights, the keyboard includes backlit keys. Press the green Fn button and the left click mouse button to turn them on in the dark.
A Decent Remote Control
The FAVI Bluetooth Tablet Keyboard includes media controls for playing music, video and slideshows. Hook an iPhone, iPad or Android tablet or phone up to a TV and use the keyboard as a lean back remote control. On iOS the user must set things up using the device first. Open the app and hit play first and then sit back with the FAVI in hand to control the volume, pause, play and skip.
Value and Recommendation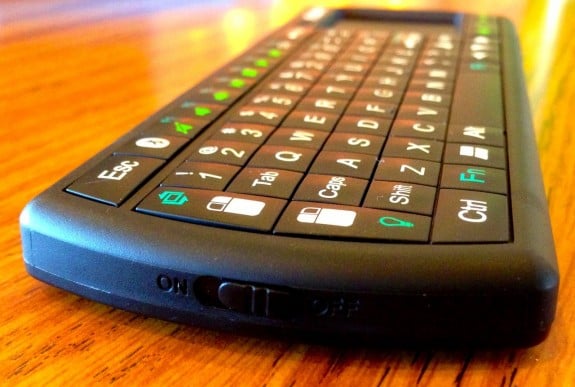 A really good presenter's mouse, like the Logitech Wireless Presenter R400, costs from $50 to $100 and don offer as much versatility as the FAVI keyboard or a Bluetooth connection. They're designed for use with a computer. The FAVI Bluetooth Tablet Keyboard costs $79 direct from the company, which is likely too expensive if a customer wants just a straightforward tablet keyboard. The size makes it very portable but the user won't want to type on it very long. However, for people who do a lot of presentations, at $79 this keyboard's a great option. Adding the ability to do a little typing and a touchpad for emergency pointing makes this one of the best presentation accessories available.

As an Amazon Associate I earn from qualifying purchases.