FCC Has Eyes on AT&T Sponsored Data
When we posted about AT&T's CES 2014 announcement regarding its Sponsored Data plans we mentioned that the Net Neutrality advocates would probably be raising a few eyebrows. As it turns out the Net Neutrality advocates aren't the only ones keeping a sharp eye and a keen focus on AT&T's Sponsored Data efforts. At CES 2014 FCC Chairman Tom Wheeler essentially put AT&T on notice saying, "My attitude is: let's take a look at what this is, let's take a look at how it operates. And be sure be sure that if it interferes with the operation of the Internet; that if it develops into an anticompetitive practice; that if it does have some kind of preferential treatment given somewhere, then that is cause for us to intervene."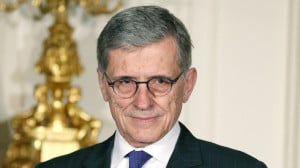 Talk about making sure you know the oversight folks are watching. Net Neutrality folks immediately made noise about the Sponsored Data plan as a potential threat to an open Internet. In essence that plan would allow companies to pay AT&T to pay for your bandwidth when you were watching certain content on your mobile device. While that sounds like and is being pitched as a boon for consumers worried about going over a data plan limits, the concern is that AT&T would give preferential treatment to those who pay the freight for this Sponsored Data, diminishing the potential for smaller companies to use the bandwidth on a equal footing with those able to dole out the cash.
Wheeler just assumed his post as Chairman of the FCC in November 2013 and is a strong open Internet proponent. In a political position for a government agency that usually phrases its intentions and words very carefully, Wheeler has already staked out ground that he's different than his predecessors. His approach his even more intriguing given that he previously served as the head of CTIA, the lobbying arm for the telecommunications companies he now is charged with regulating.
In the interview today, Wheeler also stated that, The Open Internet Order "is designed to encourage competition, is designed to be different for wireless than from wire, and it makes it clear that if there are untoward things impacting things to the network, undermining innovation, then the commission should move."
In total, Wheeler's job isn't just protecting consumers and smaller Internet players, so there is some caution in and about what he says. As in all things government, a balance has to be achieved before the arrival of any outcome. But in the days where we have cellular rivals like AT&T and T-Mobile in what amounts to open warfare underscored by a sound track from Macklemore, Wheeler sounds like he might be paying attention to the right things.

As an Amazon Associate I earn from qualifying purchases.