FIFA 16 Demo Release Date Details
The FIFA 16 demo release date is confirmed with access to a dozen teams, including two all new Women's National Teams. You don't need to pay for access to a subscription service to play FIFA 16 early as this is a normal demo, not a full game with a limited time trial. Here are the important FIFA 16 demo release date details gamers need to know.
After months of, "Will there be a FIFA 16 demo?" questions from gamers EA finally announced the option to play FIFA 16 early on multiple systems.
The FIFA 16 release date is September 22nd in the U.S. and a few days later in other countries. There are two versions of the game with a basic FIFA 16 version for $59.99 and a FIFA 16 Deluxe Edition for $69.99 with bonus FIFA Ultimate Team packs.
Count on a FIFA 16 early release on Xbox One for EA Access members with the full game on September 17th.
EA promises a plethora of new FIFA 16 features that will allow gamers to leverage a better midfield, smarter team mates, new crossing mechanics and other upgrades to see if it is worth buying FIFA 16 if you already own FIFA 15.
FIFA 16 Demo Release Date
The FIFA 16 demo release date is September 8th in most regions, but EA cautions that this may vary. This is about two weeks before the FIFA 16 release date, so you'll have plenty of time to try the new game.
EA did not announce any specific FIFA 16 demo release time yet, so it is unclear if the game arrives at midnight or during the day. EA is typically slow to announce the exact timing, but will likely tweet more details.
You can download the FIFA 16 demo on Xbox One, PS4, PS3, Xbox 360 and PC. There is no pre-load option for the FIFA 16 demo yet.
FIFA 16 Demo Game Modes
You cannot play every game mode in FIFA 16, but EA is generously offering access to four game play modes in the FIFA 16 demo and a special presentation option on PS4, Xbox One and PC.
Kick-Off: jump onto the pitch and play a match. When starting the FIFA 16 Demo for the first time on PC, Xbox One, or PS4, you will begin at El Clasico, Real Madrid CF at home to FC Barcelona.
FIFA Ultimate Team Draft: experience a brand new way to play – FUT Draft. Make careful decisions as you build a squad, then take them onto the pitch in an offline match.
FIFA Trainer: everyone can Compete at a Higher Level in FIFA 16. Check out the FIFA Trainer, a new contextual training system, to pick up some new tips while playing Kick Off or FUT Draft.
New Skill Games: as matches are loading experience six of our six new skill games.
Bundesliga Broadcast Presentation: (available on Xbox One, PlayStation 4 and PC only) experience authentic broadcast graphics when Borussia Dortmund visits Borussia Mönchengladbach at BORUSSIA-PARK.
This is not a full game like EA Access offers on Xbox One and the progress you make will not carry over to the full game.
FIFA 16 Demo Teams
There are 12 FIFA 16 demo teams available for users. These include the top 10 club teams and two Women's National Teams.
FC Barcelona
Borussia Dortmund
Borussia Mönchengladbach
Chelsea FC
Inter Milan
Manchester City
Paris Saint-Germain
River Plate
Seattle Sounders
Women's National Teams
You can only use the Women's National Teams to play against each other, which is a restriction that we will see in the full FIFA 16 release as well.
FIFA 16 Demo Options
The FIFA 16 demo include three stadium options for gamers to play in, out of a larger number. The three FIFA 16 stadiums in the demo are,
BORUSSIA-PARK
CenturyLink Field
Real Madrid's Santiago Bernabeu
Expect more options in the full FIFA 16 game later this year.
FIFA 16 Release: 9 Important Details
FIFA 16 Release Date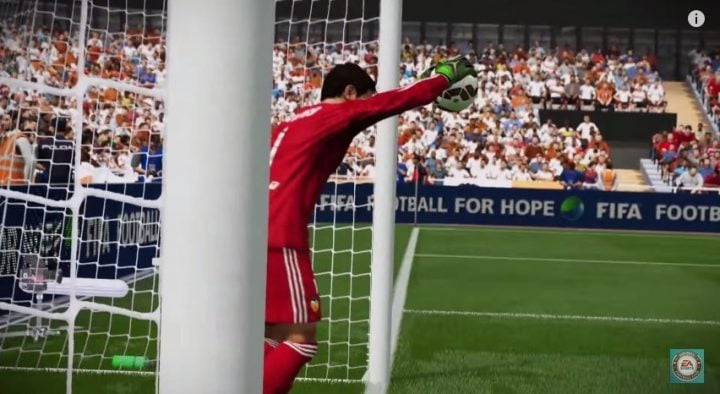 The FIFA 16 release date arrives September 22nd in the U.S. and a few days later on September 25th in the UK, Ireland and other countries. This short delay is common when for FIFA 16 games even though soccer commands more attention in other countries.
Once you get past these two FIFA 16 release dates there are no more coming, so the wait is minimal.
Gamers can buy FIFA 16 on disc or digital and with the digital version there will be an opportunity to download the game early to start playing as soon as 12:01 AM Eastern rolls around. In addition to PSN and Xbox Live, FIFA 16 is on sale on Origin.
We may see disc and digital sales officially start at 12:01 AM Eastern no matter the location, which could allow gamers on the west coast to start playing at 9:01PM on Monday September 21st.