First Photos of Android Ice Cream Sandwich Leak Out
A lot of you have been waiting to see what the next incarnation of Google's Android operating system will look like and it appears that RootzWiki has leaked the very first images of what is believed to be Google's upcoming Android Ice Cream Sandwich software.
The photos you see here are from a Nexus S that is apparently running the next major Android update and give us a quick glimpse at an early build of the software.
As of right now, the build is apparently not 100% functional so that means that you shouldn't expect it to roll out in the near future. We've heard October might be the launch month but if it's still not at 100% that might not happen.
The one thing you'll notice is that there is a lot of the color blue. It seems that the color is going to be prevalent throughout the operating system which is exciting for those of you who enjoy the shade. Other stuff includes:
Camera has built in panorama mode
Will launch with Google Shopper and NFC Enabled devices will be able to utilize those features
Gmail is all rethemed
Will be available for the Nexus S
Nexus Prime gets it first (expected) then other devices will follow after
Not too many changes, just UI things, don't think requirements are set too high for year old devices to run it
The little icon in the bottom right, looks like a tray with multiple apps in it
Google search bar embedded on very top like Honeycomb
Apps/Widgets launcher a lot like Honeycomb
This release is still very early, notice the theming of the power tray
Android Police was also able to score a couple more shots of the new operating system at work. Again, notice the hints of blue and the changes with the notification bar, the first time this has happened since Android 2.1 Eclair: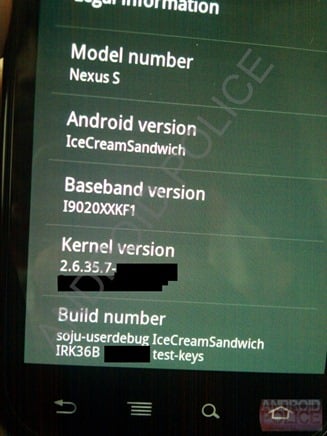 So, what do you guys think? It looks pretty good to us even if it's not at 100%.

As an Amazon Associate I earn from qualifying purchases.