Flappy Bird Sequel Swing Copters Arriving Later This Week
The ever-popular mobile game Flappy Bird is getting a little brother later this week, as the game's creator will be releasing a new title called Swing Copters.
From the title, you can probably assume that this new game will include helicopters and some kind of swinging obstacles. Well, your assumptions aren't far off, as that's essentially what the game is about. Plus, it adopts the Flappy Bird-style gameplay that you've grown to love and hate at the same time.
Essentially, Swing Copters is almost identical to Flappy Bird, except instead of flying horizontally and making your way through a series of pipe openings, you fly vertically while avoiding swinging hammers and making your way through platform beam openings.
TouchArcade has the exclusive gameplay video of Swing Copters, which you can view below, but it's pretty much just a slightly different version of Flappy Bird, to be honest. However, this isn't necessarily a bad thing, as Flappy Bird still isn't available in app stores after it was pulled by the creator earlier this year.
Swing Copters is planned to be released later this week on Thursday and it'll be free to download. However, like with pretty much all free apps nowadays, the game will include a $0.99 in-app purchase to remove the ads.
Flappy Bird has been one of the most popular mobile games of 2014, and probably one of the most short-lived games as well, as the developer removed Flappy Bird from the various app stores just days after its initial release.
However, Dong Nguyen (who developed the game) said earlier this year that he would bring back the game at some point, but didn't know when exactly. Before too long, Flappy Bird came back earlier this month, but under a new name and is only available on Amazon's new Fire TV set-top box. While it seems like a strange thing to do, we're thinking it may have something to do with Nguyen's apprehensiveness to release the game again, and this could just be the first baby step that Nguyen is taking to bring his game back to the public again.
Nguyen claimed that he initially pulled the game from all of the various app stores because he felt that gamers were becoming too addicted to the game, and said that some gamers would get frustrated with the difficulty of Flappy Bird and send Nguyen hate mail to express their disdain. Because of this, we're not surprised that this new Flappy Bird game is seeing a limited re-release.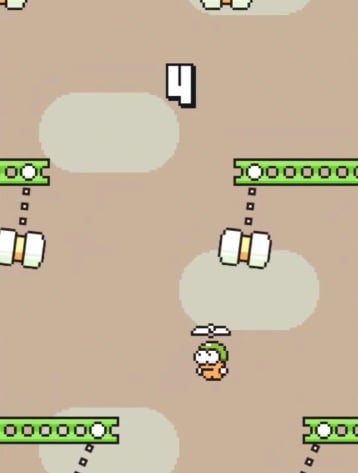 In any case, Flappy Birds Family comes with some new features that the previous version didn't have, including a new Person vs Person mode, more obstacles (including flying ghosts). However, the game doesn't lose the one thing that made it really addicting in the first place. Nguyen says that Flappy Birds Family is "still very hard."
Gamers can share their best scores with the world and even challenge friends to see who can get through more pipes before making a mistake.
Flappy Bird was originally released last year in May, but it didn't reach full potential until earlier this year when it was reported that Nguyen was making $50,000 per day just from ad revenue. Apparently, though, Nguyen wasn't in it for the money, and he shut the game down anyway, despite the massive amounts of cash he was piling up.
This new Swing Copters game will be the first time that mobile gamers will experience a Nguyen-developed game ever since the original Flappy Bird game was taken down, so we expect this new title to be downloaded a lot once it's released.

As an Amazon Associate I earn from qualifying purchases.