Flipboard Officially Arrives on Android
After a few weeks on beta, Flipboard for Android is finally available for all users in a variety of app stores including the Google Play Store, Amazon Appstore, and Barnes & Noble Nook Store.
For those unfamiliar with the app, Flipboard is essentially a personalized news magazine for smartphones and tablets. The service aggregates stories from the user's social networks like Twitter, Facebook, and SoundCloud as well as RSS feeds from Google Reader. The app also has a number of publications it can draw from, ranging from magazines like The New Yorker and Esquire to shows like The Colbert Report and sites like BuzzFeed.
Flipboard for Android was originally announced for Android as a Samsung Galaxy S III exclusive, but in the U.S., that exclusive only lasted a day. The Galaxy S III launched in the U.S. yesterday with Flipboard installed, and today, anybody can download it.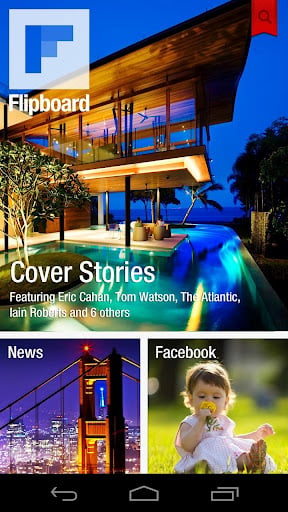 With the release of the Android app, Flipboard adds a couple of Google services to both the Android and iPhone versions of the app. Now users can log into their Google+ and YouTube accounts on Flipboard.
YouTube is the first video service to hit the app. It brings user's subscriptions to the app so users don't have to bother with the actual YouTube apps if they don't wont to. That's better news for iOS users than Android users, however, as Android actually has a pretty good YouTube app.
The Google+ integration works just like the Facebook integration, but it's probably significantly less important than Facebook to many users.
Thankfully, Flipboard syncs profiles across all devices so users only need to sing into each service once to have access to it on every device they own or will own.
Now that Android finally has a version of Flipboard I'd love to see the app come to Windows Phone as well. Sure, the platform doesn't have as many users as Android, but I'm hoping Windows Phone 8 will change that. Flipboard is one of the apps I miss whenever I try out a new device, and I'd love to see it on one of the upcoming 720p Windows Phones.

This article may contain affiliate links. Click here for more details.