Following SOPA Blackout, Wikipedia Releases Official Android App
After protesting the possibility of U.S. legislation on piracy in an attempt to safeguard national privacy, Wikipedia had blacked out its website on Wednesday. It looks like although the U.S. portal of the online community-curated encyclopedia had gone dark, there was some light at the end of the tunnel on Wednesday as Wikipedia had released an official app for Android found in Android Market for free.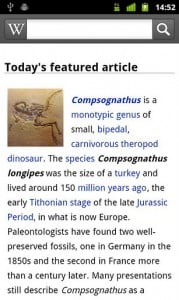 In the past, Android and other smartphone users could either rely on a number of free or paid third-party native apps to access Wikipedia's content while mobile. The app does require an active Internet connection.
To download the official Wikipedia app, you can go to Android Market.

This article may contain affiliate links. Click here for more details.