Fruit Ninja: Puss in Boots Exclusive and Free on Amazon Appstore for Android for Cyber Monday
Like Rovio with its Angry Birds franchise, Fruit Ninja is expanding its collection with a Puss in Boots partnership. The new Fruit Ninja: Puss in Boots will be coming to Amazon Appstore for Android, a third-party Android app store, on Monday and Amazon will be running the title as part of its daily free app promotion where you can purchase the special edition for free.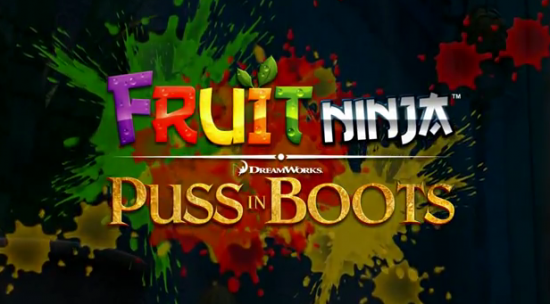 The title is also said to be optimized for Amazon's debut Kindle Fire Gingerbread tablet.
Following the Cyber Monday promotion, Fruit Ninja: Puss in Boots will be available for $0.99.
Via: Phandroid
Press release:
TOP-SELLING HALFBRICK MOBILE GAME FRUIT NINJA: PUSS IN BOOTS WILL BE AVAILABLE FOR ANDROID DEVICES EXCLUSIVELY AT AMAZONAPPSTORE THIS MONDAY
ONE DAY ONLY: Celebrating the Release of the Kindle Fire, the Blockbuster Game will be Monday's Free App of the Day
BRISBANE, Australia – November 25, 2011 – Acclaimed game developer Halfbrick today announced that one of its biggest mobile titles of 2011, Fruit Ninja: Puss in Boots, will be available for Android devices on Monday, November 28. It will be available exclusively through Amazon and is optimized for the newly released Kindle Fire.
As part of its Cyber Monday promotions, Amazon will offer Fruit Ninja: Puss in Boots as the Free App of the Day. Following the promotion, Fruit Ninja: Puss in Boots will be available through Amazon Appstore for $0.99. Fruit Ninja: Puss in Boots can be downloaded here:https://itunes.apple.com/us/app/fruit-ninja-puss-in-boots/id469297662?mt=8.
Stepping into the boots of the swashbuckling feline hero, Fruit Ninja: Puss in Boots brings the trademark Spanish flair to the famed Fruit Ninja franchise, offering two exclusive modes, unlockable weapons and Spanish-themed backgrounds inspired by DreamWorks Animation's hit motion picture "Puss in Boots." The furry fighter slices his way through Desperado Mode, which adds Magic Beans and enhanced waves and scoring, and Bandito Mode, a four-tiered challenge adventure where players must work through a number of increasingly difficult and varied puzzle-style slicing games. Fruit Ninja: Puss in Boots was a top five best-selling iOS game during its release week and received a perfect "5 out of 5″ review score from renowned mobile games site Modojo.com.
For more information about Halfbrick and Fruit Ninja: Puss in Boots, please visithttps://www.halfbrick.com.
For press assets, game logos and screenshots, visit: https://bhimpact.gamespress.com/product_page.asp?i=1235
About Halfbrick
Founded in 2001, Halfbrick has been on the forefront of the Australian game development industry for more than a decade. After years of experience developing licensed titles for platforms such as Game Boy® Advance, Nintendo DS™ and PSP® (PlayStation®Portable), the studio has begun expanding its portfolio with a range of original self-published games for downloadable platforms. In 2010, Halfbrick became one of the most well known independent developers in the world with the success of Fruit Ninja, Monster Dash and Age of Zombies on mobile devices, and other releases such as Raskulls and Fruit Ninja Kinect on Xbox LIVE® Arcade. The studio continues to create fun and unique games and looks to explore new opportunities and technologies in the world of casual games development.