Fujitsu Announces Updated P1630 and U820 Tablet PCs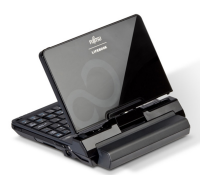 Offering some minor upgrades to their ultra-portable tablet pcs, Fujitsu has announced the P1630 and U820 Tablet PCs.
Quick summary of changes after the Read More:
P1630:
New Improved performance and battery life from the latest Intel(R) Centrino(R) 2 processor technology with dual-core Intel(R) Core(R) 2 Duo SU9300 Ultra Low Voltage Processor and Intel(R) Wireless WiFi Link 5300 (802.11a/b/g/draft-n). New Up to 6.15 hours(4) with the high-capacity battery option — an hour longer than its predecessor. New Optional wireless broadband (coming in the first quarter of 2009). New Webcam with 1.3 mega-pixels (640 x480) resolution.
Prices start at $2179
U820
New Built-in GPS receiver and integrated Garmin Mobile(R) PC software — preloaded with maps of the U.S. and Canada, millions of destinations and points of interest, turn-by-turn directions, and route planning. New Lighter weight starting at 1.32 pounds. New Powered by the Intel(R) Centrino(R) Atom(TM) Z-series processor which supports lower power consumption, fewer chips, VT Technology and integrated support for 1080p HD video decode. New An additional row of keys and a new overall layout of the keyboard to more closely simulate a standard QWERTY keyboard. New Maintains security features including fingerprint sensor and BIOS lock, and adds a Kensington lock slot to deter physical theft. New Now offers up to 7.5 hours of battery life(3) with four-cell battery or 3.5 hours(3) with new 2-cell battery option. New Hard disk drive up to 120GB or solid state drive up to 64GB. New Improved screen resolution with WXGA display. New Enhanced video quality with 1.3 mega-pixel (640×480) resolution webcam.
Prices start at $999 with a $50 rebate

As an Amazon Associate I earn from qualifying purchases.