Fujitsu Goes After Stall Surfers with Water Proof Tablets
Stall surfing. If you follow me, the resident GBM Stall Surfing guru, you'll know that this is the "marketing reason that shall not be mentioned" for Tablets. We all know that. Reading, using a Tablet, in the "library" is one of the main reasons Tablets exist.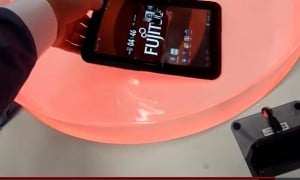 Well, it looks like Fujitsu is trying to flush out that market with a new "waterproof" Tablet and smartphone design. Called the Arrows Tab LTE F01D, the Tablet was actually introduced in Japan last fall, but appears to be making a splash at CES 2012 in Vegas. The waterproof part is the new part obviously. The 10. 2 inch Tablet is running Honeycomb at the moment but that's no surprise. Rugged Tablet PC users will understand that the technology here involves covers for the ports but I'm guessing there's other ruggedized technology happening here as well.
Apparently there are gesture controls that allow you to manipulate the Tablet when its at the bottom of whatever vessel it might be floating in. The depth has been tested to 1 meter.
Don't expect to see this Tablet in the US anytime soon as it's headed to Europe after its christening last fall in Asia.
Video via