Fujitsu Lifebook T900 is my NEW Tablet PC (sort of)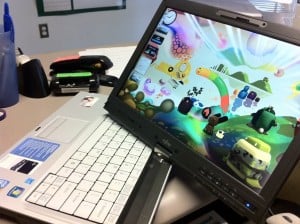 Hey, remember when I said I wanted the Fujitsu Lifebook T900 to be "My Next Tablet PC"? Well, I wasn't kidding then and I'm even more serious now that I have one as my daily productivity PC.
Here's the situation: a few months back, I evaluated the Fujitsu Lifebook T900 Tablet PC, and basically, I really liked it. Personal issues forced me to put off an upgrade this year, but I had every intention of making the T900 (or, if necessary, its successor) my next Tablet PC. And then Fujitsu beat me to the punch.
A month ago, Fujitsu contacted us about a long-term review. Great opportunity, but also a challenge for me to put up or shut up. It's one thing to put a gadget through its paces for a couple of weeks. It's another to see if it actually stands up to extended, real-world use as I think it will. That's what I'll be doing with it.
The unit is almost the same as the base dual-digitizer model that I previously evaluated. Two changes are the memory was bumped up to 4GB from 2GB and it's running the 64-bit version of Windows 7 Professional instead of 32-bit. The upgrade that I'll really be testing is the modular bay battery. I strongly recommended this in my review since the main battery could only carry the PC for three hours. Now I can see firsthand if that recommendation was worthwhile, in the real-world conditions where it matters.
Another opportunity it opens is the ability to review new multi-touch applications, something prevented by my upgrade delay. Two applications I need to get back to are ritePen and PDF Annotator. The new versions of both offer multi-touch functionality, which I'd been unable to test. I intend to rectify this and get some InkShows done for them and other applications.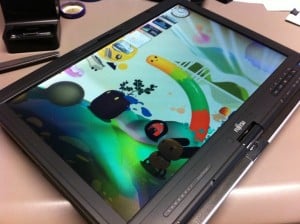 Lastly, I'll be treating this evaluation unit as a business machine, not my personal tablet. I'll have to do some personal things on it since it will be my daily productivity PC, but I'll be keeping personal documents in Evernote and I won't be syncing my iPhone with it. Part of that is because is because it's an evaluation unit, but more importantly, my current computer set-up is already too fragmented. So I'm taking this opportunity to start fresh and transition my media PC as our central storage hub.
So there it is. Fujitsu has given me the chance to evaluate the Lifebook T900 as my daily production device. I'll see if that modular bay battery recommendation was on the money. This gives me a top-of-the-line Tablet PC to evaluate and demonstrate software for GBM. And I should have stories to share about my changing computer set-up. I'm excited about it, mostly for what it lets me do for the GottaBeMobile community. Many thanks to Fujitsu for making this happen.

This article may contain affiliate links. Click here for more details.