Fujitsu's giving away another Lifebook T730 Tablet PC (with more to come)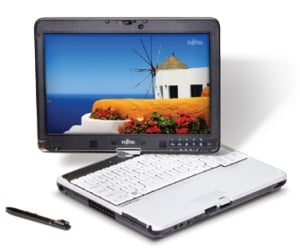 Not even halfway through their twelve-week giveaway sweepstakes and Fujitsu is already doubling up on the prizes. Fortunately, it's another dual-digitizer Tablet PC – the Lifebook T730 – so it's all good.
Here's the deal: if you are 18 years of age or older and living in the U.S. (Sorry yet again children and international friends), an original tweet and an entry form gives you a shot at winning a T730. On top of that, if one of your followers enters the contest through your tweet link, you get an extra entry in the contest. You can also enter without tweeting, but where's the fun in that? This is the link.
This is an entry-level version of the business-class convertible with Intel Core i3 processor and dual pen + multi-touch Wacom Penabled digitizer under a 12.1″ 1280×800 display. I finally got a clue and read through the official rules to find the SKU. Specs via Newegg.com.
Also, I discovered Fujitsu is rotating between this, the T900, and the MH380 Mini-Notebook as their prizes. That makes a total of eight Tablet PCs with this being the third. By this point, I think I've done my part to spread the word about this giveaway. I'm content to let this be my last notice about the ongoing sweepstakes, but if you want me to keep the reminders going (in case you're not already following Fujitsu on Twitter and want to know when and how to win a free Tablet PC), let me know.

As an Amazon Associate I earn from qualifying purchases.