Fusion App Gives iPhone Owners a Good Reason to Jailbreak
With iOS 5, Apple integrated Twitter into the iPhone, iPod Touch, and iPad. The integration is great, but some users want more social networks than just Twitter integrated into their phone. For those users there's the new Jailbreak app, Fusion.
Fusion is a $2 app in the Cydia store that was first spotted by iDownloadBlog. It modifies iOS 5 to have Facebook, Foursquare, and even MySpace integration in addition to Twitter. With the app you'll be able to post updates or photos to any of the four social networks easily.
Fusion adds the social networks to the Compose menu that's typically reserved for Twitter. Just tap the added icon to the left of the character count to send your updates to the networks of your choice.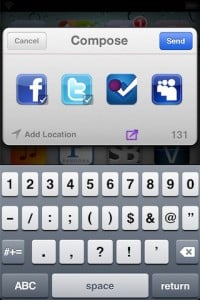 It's not just for photos and websites, though. Fusion users can set an activator for Quick Compose so they can update their social networks no matter where they are in iOS. The activator options include gestures, double tap on the status bar, triple-tap of the home button, and a huge list of other options.
If you have a jailbroken iPhone 4S, Fusion can hook into Siri using the Furi plugin. Using Siri with Fusion won't automatically update your social networks, but it will add your words to the Quick Compose screen so you can double-check the text before posting.
Fusion enables functionality that arguably should already be included in iOS 5.
For iPhone users that constantly update their Facebook and Twitter, this is arguably reason enough to jailbreak. If you already have a jailbroken iPhone, Fusion seems like a good deal at just $2.

As an Amazon Associate I earn from qualifying purchases.