Who Is TabCo? Fusion Garage. Their Amazing New Tablet? The Grid 10.
The answer to "Who is TabCo?" finally got an answer today, though it may not be the one anybody wanted. TabCo is actually just Fusion Garage. You know, the JooJoo people. Their new tablet is called the Grid 10, not the JooJoo 2. Acknowledging that no one would have paid attention to or taken them seriously as Fusion Garage, company CEO Chandra Rathakrishnan said in a "live" webcast that the ultra hype and obfuscation of the WeAreTabCo campaign was necessary. I'll give them that much as true. But now that all eyes are on the JooJoo Grid 10 maker, is this new tablet worth a second look?
First, the specs: 10.1-inch display, 1366 x 768 resolution, 0.38 inches thick, 1.5 pounds, Nvidia Tegra 2 processor, 16GB storage, 512MB RAM, Wi-Fi b/g/n, Bluetooth 2.1 + EDR, front-facing camera, MicroSD, Micro SIM slot, Docking port (Charging, HDMI, USB), 5,800mAh battery. Which is about the same as your standard Android Honeycomb tablet except for the higher resolution display and only one camera. But it's not running Android — instead, it's powered by the Grid OS, developed by Fusion Garage and based on the Android kernel.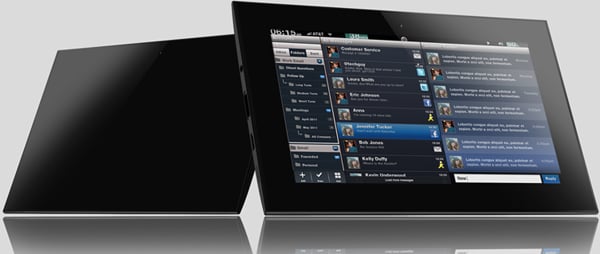 In the demo, the Grid OS did come off as slick and speedy. I like the animations and transitions and think they're well done. The overall aesthetic is attractive, and I like the clusters of apps on the Home screen. Rathakrishnan demonstrated how easy it was to collapse and expand these clusters to make the Home screen a bit cleaner. It does look very busy, especially with the background that changes perspective as you move it. The OS has a Grid Map for tapping around on the Home screen which is nice, but is edging toward too muchness.
Media playback is nice and smooth, as you'd expect. The browser also looks like it's easy to use and intuitive. The circle menu they hinted at on the pizza boxes comes into play here, but it's not clear where else in the OS it shows up. One nice feature is that users can open up two webpages side by side in a split window. That's definitely a +1 for productivity. Another nod to productivity is the Grid Frames office suite, which will come pre-loaded.
Though it's not an Android tablet, users will be able to run Android apps on it from non-Android Market stores. Rathakrishnan particularly highlighted the Amazon App Store as a good source. Probably not coincidentally, customers can order the Grid 10 from Amazon starting today.
Aside from third-party Android app stores, Fusion Garage claims they're have a market, too: the Grid Shop.
Yes, I am intrigued. But I haven't reached being impressed yet. I've seen plenty of attractive operating systems and apps before. And I've seen plenty of tablets demoed that didn't run so well once they arrived in the mail. So I'm going to keep my skeptical face on for a while.
As I said, Fusion Garage admitted that their past performance and product launches are likely to make people brush them off. Including the few hundred people who bought the first JooJoo tablet. In addition to their marketing campaign, the company is spreading more good will by sending all of those JooJoo owners a Grid 10 for free. (Check your email if you're one of those customers.)
The Grid 10 will start shipping in one month and pre-orders begin today. You can go to the Fusion Garage website to do so or head on over to Amazon.com. The Wi-Fi only version is $499, the 3G + Wi-Fi version is $599.
I'm going to get some hands-on time with the Grid 10 this week, so I'll report back my findings. Any questions you want me to ask or tasks you want me to get on video?
As it stands, will you pre-order this new tablet, wait until it ships and the reviews are out, or go back to lusting after the ASUS Transformer 2 and ignore it all?

As an Amazon Associate I earn from qualifying purchases.