Fusion Garage Grid10 Review – Second Time's The Charm? Not Quite
Fusion Garage's $299 Grid10 is an interesting entrant into the tablet milieu. In a market dominated by Apple and, to a lesser extent, Android, it takes a lot of chutzpah to introduce a product that runs on neither. Especially if you're a small company like Fusion Garage. Larger companies have tried and failed.
The Singapore-based company did cheat a bit, building their operating system, GridOS, on top of Android 2.2. This is more than just a skin, though. It's a ground-up build that's different from Android in look and feel, but has the advantage of running apps made for Android.
Walking a fine line seems to be Fusion Garage's preferred MO. That and wild confidence in their products. Does the Grid10 justify that stance? Read on to find out.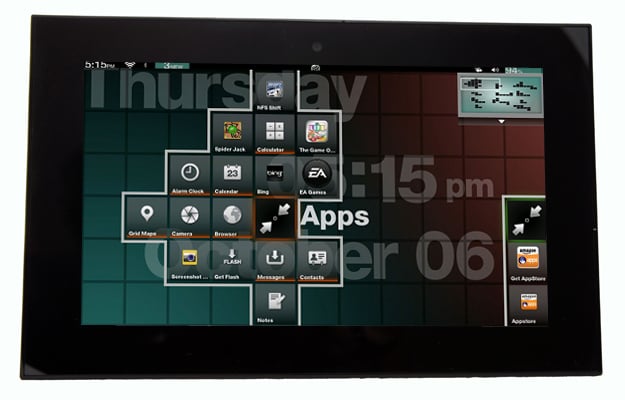 Pros
Design – Aesthetically, this is a sweet-looking tablet. It measures 10.8 x 6.8 x 0.55 inches with a taper to the long edges that slims down the profile nicely. The weight isn't bad, either: 1.5 pounds. It's bigger than most Android tablets and, of course, the ultra skinny iPad 2 (which also has a smaller display). Despite that, it doesn't feel off-balance the way the Toshiba Thrive did in portrait mode.
A single piece of glass dominates the front with only the webcam to mar the uniformity. The curved, metal back piece is a charcoal color with the Grid10 logo tastefully embedded in chrome.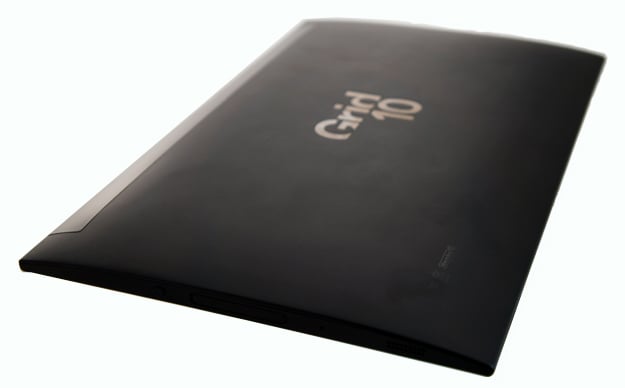 Overall, I like the look and that the tablet just feels solid and well-made.
Display – the 10.1-inch screen benefits from a resolution normally not found on tablets: 1366 x 768. In practical terms, this means you will see a bit more text from a book or webpage on the screen at once versus an Android tablet or the iPad.
This makes watching HD content particularly nice, as do the crisp, deep colors. The display offers wide viewing angles with the odd exception of viewing it from the right. At that angle, I saw color distortion just a few degrees off from looking at it dead on.
Gestures – I prefer having physical buttons for Home, Back, etc., but I do like the Grid10's gesture-based controls. Swiping from the top, bottom, right, and left bezel activates different commands (more on this in the GridOS section). It's easy to do and fairly easy to remember which gestures do what. I rarely had the gestures fail to execute.
Cons
Performance – The Grid10 has an Nvidia Tegra 2 chip inside, which in theory should mean it runs about as well as your average Android tablet. Thing is, the CPU itself isn't the sole determining factor when it comes to performance. The software has to take best advantage of the hardware. When it doesn't, you get performance issues. And it looks like that's a problem here.
The Grid10 simply isn't snappy. It sometimes takes a second or a bit more to respond to icon taps to launch apps, swipe gestures, or transitions between screens. The sluggishness didn't affect navigating the UI, swiping around on a webpage, or watching HD video. However, you could definitely feel the lag when playing games that required quick responses such as Fruit Ninja, or resource-intensive games like Plants vs. Zombies.
Fusion Garage informed me that the Grid10 shipped with software that isn't quite ready. In 3 – 4 weeks they promise to push the finalized version to users in OTA updates. This could correct all the problems I experienced, including multiple reboots for no reason, much like when Google released the Android 3.1 update. If you pre-ordered this puppy, though, you're stuck with the partially baked version for a month.
Apps – Hopefully the software update will also improve stability when using Android apps. The GridOS main apps work just fine, but some of the apps we downloaded through Amazon's app store either didn't work well or force-closed often. Since this is the only source of non-Fusion Garage created apps, it's a problem. It might be different if the company didn't tout the ability to run Android apps as a perk.
Battery Life – This may again be a function of the software, but the Grid10 eats battery pretty quickly. After 3 hours of surfing the web, sending messages on Twitter, playing games, and watching video the battery was down to 20%.
Camera – There's only one camera on this tablet, a 1.3MP front-facing model that takes uninspiring pictures. It might be decent enough for video chat, but I wasn't able to get any apps for that to work.
Speakers – The two speaker grills sit on the short, untapered sides of the device toward the bottom. Obviously you're not going to get much volume or good audio quality out of tablet speakers. However, the placement is particularly unfortunate since hands cover the speakers if you hold the tablet naturally.
Ports and Buttons – The Grid10 includes few ports along the two short sides of the device. Along the left is a headphone jack, proprietary port, and microSD slot. A SIM card slot (on the 3G model) is under a cover on the left side. And that's it. No microUSB port. Fusion Garage sells a USB cord that connects to the proprietary port, but it costs an extra $29. That just seems rude.
There's also no physical volume rocker. Users must use the on-screen volume control.
GridOS
The heart of the Grid10 tablet is the mobile operating system, GridOS. Fusion Garage is very adamant that consumers know that GridOS is not Android, but something entirely new and singular… that's built on top of Android. The only real reason to acknowledge that Android is somehow involved is due to apps.
Overall, GrisOS has a very attractive user interface. I really like the transitions where blocks fall into place or the screen spins around. Little things like this matter big time because they enhance the overall experience. On that front, Fusion Garage did an admirable job.
The central hub of the OS is the Home screen, naturally, which differs from Android and iOS by being one large, ever-expanding surface instead of multiple screens with a set number of spaces. Users can arrange apps and shortcuts into clusters or let them hang out on the grid by themselves. There's no distinction between shortcuts to websites and actual apps, which could confuse some users.
The clusters are completely arrangeable, so you can stack the app blocks any way you like. There are no boundaries on this surface, so you can move clusters as far away from each other as you like and add an infinite number.
Just as I suspected when I first saw this, I spent a lot of time scrolling around trying to find icons. There's a small map in the corner that you can tap to get to areas of the Home screen faster, giving the UI a gameish feel. Even with this I still had to remember the cluster I was looking for and overall felt this was unnecessarily complex instead of fun and simple.
The gestures are well done – swipe from the left to bring up the Heartbeats screen (notifications, app switching, events), swipe down from the top to return to the Home screen, swipe up from the bottom to bring up Menu in Android apps, and swipe from the right to go Back. The browser has an additional gesture: swipe from the bottom left or right corners to access controls.
Oft-needed controls, services and settings, such as Wi-Fi, Bluetooth, Global Search and Volume, are persistent at the top of the screen.
Get deeper into the OS and the ease of use falls off. For instance, setting up and syncing Google accounts mail, contacts and calendar entries isn't as straightforward as on Android or iOS. The same for setting up a Fusion Garage account. Plus, it's not immediately clear why users need it.
I also found switching between open apps a pain. You have to go to the Heartbeats screen to find the list of running apps (up in the top left) then tap to go back to the one you want. While this is easier than iOS, Android's Honeycomb app switcher is superior.
As I used GridOS I found aspects that impressed me, but overall felt that it's not as solid or easy to use as Android Honeycomb or iOS. It has good elements and a nice UI, but they don't gel together to create an effortless experience. I can't imagine that if I handed this to my tweenage niece or to a non-tech journalist friend that they'd be able to understand it quickly.
Then there's the apps issue. Fusion Garage provides their own versions of the stock apps you'd expect on a tablet, such as Mail/Messaging, Maps, Browser, Notes, and Clock. To get more apps you'll need to use the Amazon App Store, which doesn't have as large a selection as the Android Market. And as I mentioned, these apps don't always play well with the Grid10.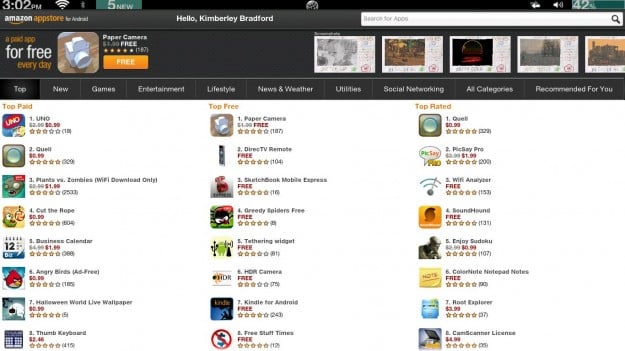 If you're savvy, it is possible to sideload Android apps if they have the APK. However, if very little of the previous sentence even made sense to you, then that's not very useful, is it?
I get that it's hard when you're a company without a big infrastructure to do this apps thing. Many have tried and failed to launch tablets that didn't have any useful app store attached to it. Fusion Garage is trying to have things both ways by declaring the Grid10 "Not Android" yet taking advantage of a high-profile non-Google app store to make people feel like they're not missing out.
The Bottom Line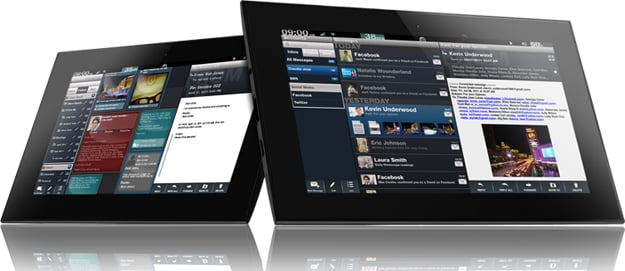 Let's put aside the software/performance issues for a second. If that wasn't holding the Grid10 back, would I recommend it to anyone? It's only $299 — $200 less than the iPad and most Android Honeycomb tablets — nicely designed, has a high resolution display, a nice user interface, and will run many popular apps. Despite these pros, I'm don't see a big advantage over Android tablets here.
The Grid10 doesn't do much that the tablet next door can't. And it has enough drawbacks to give me serious pause. I can't see it doing well amongst mainstream users, though hard core enthusiasts and tinkerers will probably like fooling around with it.
It's the type of tablet that can shine if you put enough effort into it. Most consumers don't want effort, they want easy.
Back to the software thing. It's good that Fusion Garage plans to push the final software soon. At that time, I will revisit the Grid10to see if the performance improves. But the fact that the company shipped this product to customers when it's not complete doesn't bode well.
I hate to bring up old stuff, but this is also the same company whose first tablet failed partially because of stuff like this. It's not a promising track record.
The Grid10 may evolve over time into a good budget tablet. It has a solid hardware foundation, now it just needs more intuitive software and decent performance. For now, I wouldn't recommend it. However, once the software update comes through I may revise that assessment.

As an Amazon Associate I earn from qualifying purchases.