Galaxy Blaze Q 4G Rebranded as Relay 4G for T-Mobile
It looks like the rumored August 15 launch date for the Samsung Galaxy Blaze Q 4G was missed and now the latest leaked training documents for the carrier suggests that the 4G HSPA+ keyboarded smartphone will get a new name upon launch. The device may debut now as the Galaxy Relay 4G for T-Mobile USA's network, though when that would happen is still unclear when that would happen.
The training documents were reported by TmoNews and now many of the earlier leaked specs are confirmed. The Relay 4G is seen as a phone that will slot just beneath the high-end Galaxy S III on T-Mobile USA's lineup and with a keyboard similar to Sprint's variant of the Galaxy S I with its Epic 4G smartphone.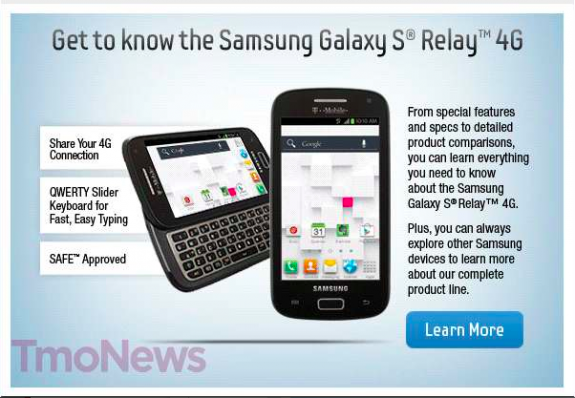 Like the Galaxy S III on T-Mobile, the Relay 4G will have a dual-core Snapdragon S4 processor clocked at 1.5 GHz. The phone will also have a spacious 5-row keyboard with a dedicated number row and also will have a 4-inch display. In the past, the phone was rumored to come with the same 720p HD resolution as the Galaxy S III, but packed into a smaller screen. If true, that would make the Relay 4G a phone with a very sharp display.
At this time, neither Samsung nor T-Mobile USA has announced the phone.

As an Amazon Associate I earn from qualifying purchases.