Galaxy Nexus Headed to Sprint's 4G LTE Network?
Toss this one in the rumor mill for now but it would appear, at least according to an ad that has popped up over at CNET, that the Samsung Galaxy Nexus is destined for Sprint's 4G LTE network, the same 4G LTE network that the carrier said would be headed to four initial markets starting in mid-2012. Odd coincidence, huh? The ad comes right before the start of CES as well so it's possible that we may see something official there.
Now, this isn't the first time that we've heard about Sprint possibly getting the latest Nexus. No, we've seen some hints in the past, but this ad, by far, is the clearest evidence to date and it should thrill those of you that are currently on the Now Network or thinking about heading there in the future.
The ad unfortunately doesn't reveal much else.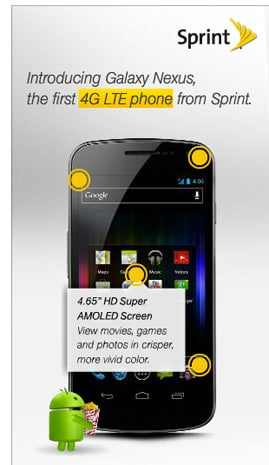 It confirms the 4.65-inch HD display, a beefier 1.5GHz dual-core processor, and the 4G LTE but not much else. Not that it needs to, we already know what the Galaxy Nexus is all about and we doubt that Sprint's model differs too much from the Verizon variant that is already out on shelves.
So when will the phone be coming out? That's anyone's guess but maybe, just maybe, Sprint will be using it as the launch device for its brand new 4G LTE network.
And if we had to guess, we'd say that there would be few complaints if that were to be the case.
Look for more on this in the days ahead.
Via: Engadget

As an Amazon Associate I earn from qualifying purchases.